Alternative engine 1.9TD
From VW T25(T3)-Tech
Jump to navigation
Jump to search
Engine Options
Donors and Parts Required
GaryD: Try looking at this link for some info given to me by and by me as I did my AAZ conversion earlier this year.

http://forum.80-90.co.uk/viewtopic.php?t=17057&postdays=0&postorder=asc&highlight=aaz&start=0
and here is a list of bits I bought:
Fit new JX parts: Number Price
clutch assembly 068 298 141 DX (110) £63.50
Crankshaft spigot bearing 111 105 313 A £5.50
Sump gasket 044 103 609 D (18.56) £7.01
Oil filler pipe gasket 068 115 315 A £1.22
Sump drain plug seal washer N013 849 2
Alternator / water pump belt
Water housing 'O' ring 2no. 052 121 091 A £1.00
Exhaust gasket (turbo to pipe) 893 253 115 £3.73
Exhaust manifold to head gaskets. 4no 028 129 589 B £2.25 each
Heat shields – 2 parts 068 253 283 & 068 253 283 A £13.76 each
Fit new AAZ parts (engine no – AAZ 504 742):
Timing belt & adjuster 028 109 119 P & 068 109 2430F £20.00 & £30.76
Oil cooler 'O' ring seal 028 117 070 £3.77
Oil Filter 068 115 561 B £6.59
Crankshaft oil seals (Fr 068 103 085 E) & (R 068 103 171 F) £4.17 & £8.45
Crankshaft oil seal gaskets Fr 026 103 161 B & R 026 103 181 B £1.46 each
Crankshaft pulley end bolt (M14 x 1.5 x 47) N905 771 01 £1.37
Flywheel bolts 6no N902 061 03 £1.84 each
Inlet manifold gasket 028 129 717 D £4.19
Inlet manifold elbow gasket 028 129 754 A £3.25
Water hose – pump to cylinder head (AAZ) 028 121 053 Q (19.85)
Coolant Thermostat 'O' ring seal 038 121 119 B £1.48
Timing belt cover 028 109 123 E £15.97
4.5 litre oil Longer turbo oil return pipe to sump (JX +1") Bung to back of block (end of AAZ oil return pipe?)
Prices in brackets are VW with aftermarket prices following.
Hope this helps
Garyd
HarryMann: Exhaust manifold parts

The manifold studs, nuts and extra thick washers are quite importannt to be in good nick and done up well. Being a TD, manifold moves about a lot as it gets very hot, so should have good flat mating faces to the head and new gaskets. They can be trouble free for quite along time if everything is right...
Exh. Manifold to head Studs N901 889 02 (M8x35) (8) Washers (thick) N900 955 01 (8) Nuts (flanged self-locking) N902 002 01 (8)
Turbo to Manifold (12-point HT bolts) 068 145 80 B (M10 x 46) (2) £11 ea + VAT (12-point HT bolts) 068 145 80 C (M10 x 29) (2) £11 ea + VAT

Original trubo fit is without gasket, good true mating faces Thin s/s gasket can be obtained from turbo refurbers
JX turbo on a JX manifold on a 1.9TD block requires the turbo-to-block support bracket extending about an inch and a quarter
Also see other turbo articles in Wiki elsewhere
HarryMann
Other considerations
Clutch... Some find the std JX 215mm clutch usually slips with a good AAZ, others find it doesn't
There are various upgrades but usually require re-machined flywheel from a different vehicle
Gearbox Clutch CVs - Diesel Uprated Clutch
Gearbox Clutch CVs - Diesel clutch change
Turbos
Re-indexing, see Diesel Engines Turbo (Re-Indexing)
Inlet Manifold
The AAZ inlet ports are 'D' shaped, the JX are oval, which match at the top not at the bottom. You could use the JX manifold 'as is' and accept some reduction in cylinder filling. The is scarcely enough material to open the ports out, as this becomes too thin to provide a wide enough mating face for the gasket. Opening the JX manifold out fully requires building up the edges to support the gasket and the resurfacing with a surface plate (See Cleaning/Trueing mating faces)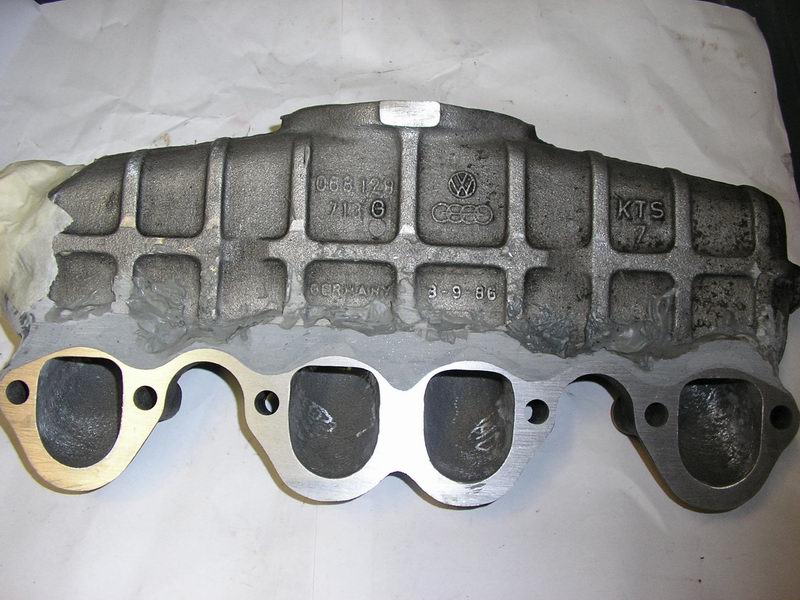 Using the AAZ manifold is probably the best option, but this has the inlet stub on the top, not the outside face. A different inlet hose and general arrangement is then needed.
If you are going to intercool then this (original AAZ)is probably the best inlet manifold to use, with the stub turned towards the rear for clearance, using a variety of silicon hoses and joins. Note well the correct stub port diameter, which has a habit of falling between common hose sizes. So at least acquire/keep the original AAZ inlet hose, to use or as a guide.
In theory it would be possible to adapt the AAZ manifold to have a side mounted inlet stub, as the casting is nominally the same.
Exhaust Manifold/Pipe/Silencer
Heat shields...
Exahaust pipe
Whilst the std JX pipe (2.25") is sufficient, a 2.5" system throughout with less resistive silencer should be of benefit if increasing the boost and fuelling (to keep exhaust manifold pressures down). (Generally reckoned to produce more torque, example of custom system to follow)

Silencer, custom heat shield Silencer - custom heat-shield
Oil Quantity/Dipstick Mods
Oil quantity on all Diesel kit mounted (52 degree angle) engines can be critical, too much being the real problem 
4.5 litres is about max. (without allowance for an additional oil cooler, a good addition to these installations) 

HarryMann: Also note that with some diesel dipsticks the correct oil level won't even be on the bottom of the stick, so shortening the dipstick tube is the normal remedy (for the AAZ anyway). About an inch and a quarter reduction from memory, or where there's a natural change in section, so that the yellow plastic scroll-clip can be re-fitted, finishing it all nicely.
File:AAZ DipstickMod 01.JPG File:AAZ DipstickMod 02.JPG
Correct oil level is then about minimum on stick, but calibrate it anyway, with 4.5 litres + allowance for oil cooler if fitted (another 0.5 ~ 0.75 litres depending on cooler size and pipe run)
Injection pump mods
There are a couple of mods that tend to go alongside raising boost pressure to increase performance. Whilst simply increasing fuelling on the main fuelling screw achieves a result, this is a bit crude and does not balance the additional fuel across the range with boost levels (and can easily give a high idle difficult to adjust down). Adjusting the LDA pin or changing it for a re-shaped one can be done relatively easily in most cases. IF you require more revs, to get above the 4,200~4500 governor limit, this mod can also be done, though is not for the feint hearted!