It all started when I noticed oil dripping out of the exhaust.
One thing led to another and a quick top end rebuild mushroomed out of control.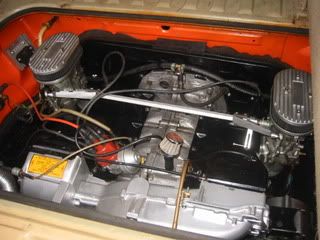 Spec as follows,
Crankcase align bored with drilled and tapped oil galleries.
Crank journals polished, main bearing 0.50 x std.
Porsche 914 spec cam (bit more lift, same duration)
Conrods balanced and new small ends.
Crank, flywheel, clutch cover and fan dynamically balanced.
Solid lifters with aluminium pushrods.
Standard barrels honed, with match weighted pistons and new rings.
New heads, match ported.
All new bearings and seals.
My trusty dellorto 40 drla carbs.
I've built it to give a bit more performance than standard and all the balancing work will hopefully help with pickup and bit of mpg. The spec should give bags more torque and not compromise reliability (I hope).
All the machine work and advice has come from Jim Calvert at Stateside tuning and he's been first class.
Probably the hardest and longest job was rubbing down and re-spraying all the tinware, I stupidly managed to break my finger when I stripped the clutch so this and a lot of the engine build was done with one hand in plaster!
The first start up saw oil leaking from the flywheel oil seal so it had to come back out, thankfully it ran well this afternoon.
All I've got to do now is a few small jobs in the engine bay, run it in and go camping as much as poss!
I've really missed driving the old girl.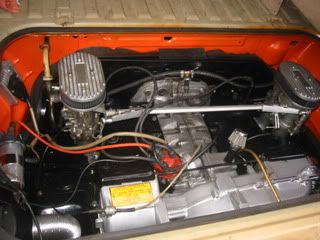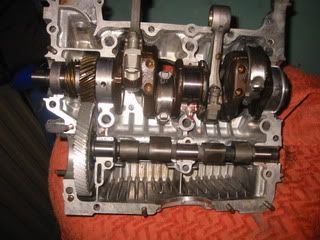 You've got to grind the oil pump bolts slightlyto clear the cam wheel bolts.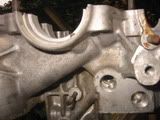 Oil galleries tapped for cleaning, theres two more the other end.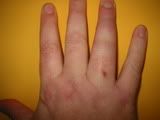 Finger out of plaster, some of my build was literally single handed!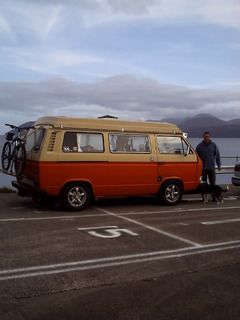 Cant wait to do more of this!