Finally decided that I am going to stick with a WBX after toying with Subaru or even diesel ideas. We have a VW because we've always had them and although the current engine seems reasonable we know nothing of its history and someone at some point has ground off the engine number!
We got this 2.1DJ from Dave at Futbus. I have now started to strip it down properly and here are some of the first pics. This engine was driven in to Futbus' yard with a broken head stud on number 3 so I know it was working.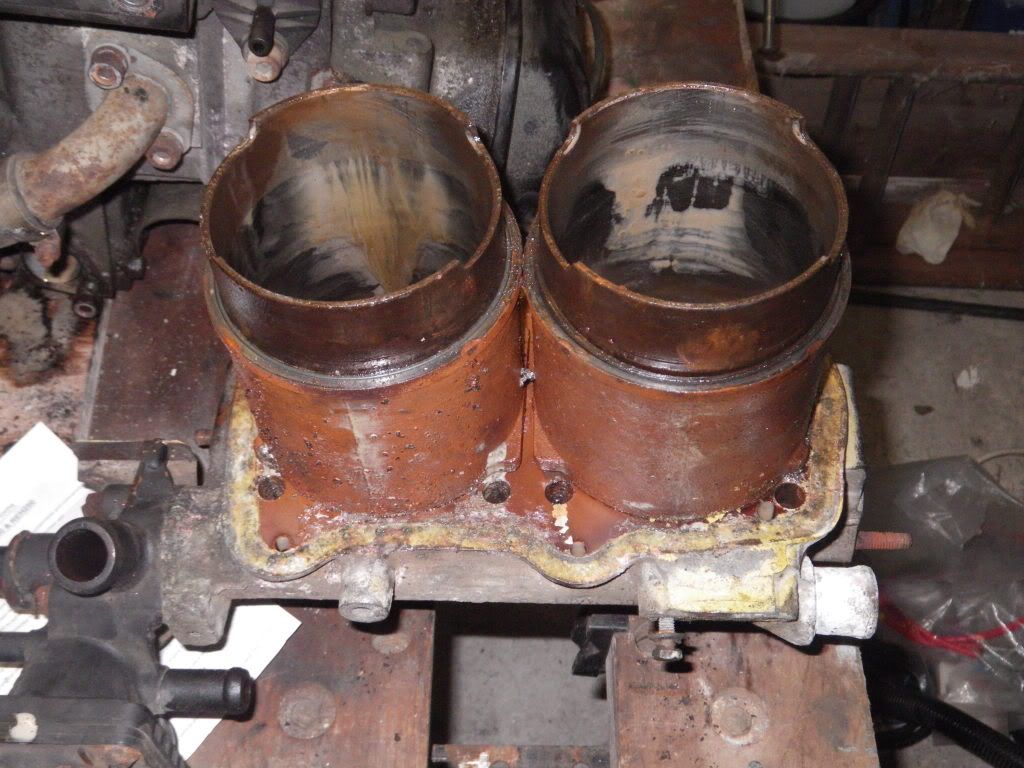 The 3&4 head came off with the liners (this is a new phenomenon to someone who has only buit Aircooled engines before!) First question is: what is the technique for separating liners from the head? The good news is that on an initial look there are no ridges in the liners and they may not be too old as they have very clear deglazing cross hatch marks on them. As you can see the thermostat housing is fixed on with allen head bolts that are rotten and I may have to cut them off - not too much of a problem as I will be putting a Syncro housing on anyway. There is a fair amount of emulsified gunk around but there is no rust on the inside of the liners which is also encouraging
I may try to find some 2.2 pistons and liners but if these ones are OK that will be a useful back up.
Can't see much of the heads at the moment but there are no obvious cracks between the valves. In any case Dave gave me two heads that seem hardly used and these will probably get incorporated.
Below is what I saw when the head eventually came off.
More gunk showing - will have to see what its like when its cleaned up. You can see the broken stud. I also have a spare DJ case which looks pretty good so I will have some decisions to make - at least the newer looking case has all its studs in place.
Got a few evenings cleaning coming up but first I'm going to finish stripping everything and then give the garage a good cleaning so that I can be confident of not getting any crud in where it shouldn't be. Also been having a very helpful PM conversation with Silverbullet that is helping me to sort out the final spec.
If anyone has any suggestions about things I should be looking for I'd be very grateful - as will be obvious this is my first go at a waterboxer.