Wheels and tyres - Alternative wheels
From VW T25(T3)-Tech
Jump to navigation
Jump to search
Introduction
Please read disclaimer.
NB. Warning... When fitting alternative wheels at the rear, please note that unless they are recessed for the two small drum locating set screws, then they will need to be removed so the wheel can be pulled up flush and flat to the drum surface.
See here for wheel nut & bolt torques
OEM alternative wheel fitments for T25s
Here's some information on wheel fitments that may be of use. It's a list of OEM wheel fitments suitable or adaptable to the T3.
Where suitable I have added notes on work needed to fit them.


Overview of Dimensions
A good guide to these parameters and what they mean can be found here as well as a Speed Difference Calculator:
Click here and scroll down for Wheel Information

AUDI
Model P.C.D. Offset C/Bore
100 (90>) 5 x 112 35...42 57.0
A4, A6, A8, V8, S2, S4, S6 5 x 112 35 57.0
Notes: Offset usable but small centre bore diameter means a need to machine the front wheels.

FORD
Model P.C.D. Offset C/Bore
Scorpio 5 x 112 35...38 63.3
Galaxy 5 x 112 42...45 57.0
Notes: Offset usable but small centre bore diameter on Galaxy means a need to machine the front wheels.

MERCEDES
Model P.C.D. Offset C/Bore
All (except below) 5 x 112 35...42 66.5
SL models 5 x 112 18...25 66.5
A Class, Vito 5 x 112 45...50 66.5
Sprinter 5 x 130 45
Vito/ML 16"x6.5J/PCD 5x112/ET47/Bore 66.5
ML up to 2/2002 16" 5x112 62 66.5
ML 2/2002 onwards 17" 5x112 52 66.5

Extra Mercedes ML Wheel Data
ML230 'Tegmen' 5 spoke 6.5Jx16 on 225/75R16104T. ET47
" Tegman Wheel Photo
ML270CDi 'Tegmen' 5 spoke 8.0 J x16 on 255/65R16109T. ET62
ML320 'Tegmen' 5 spoke 8.0Jx16 on 255/65R16109T. ET62
ML320CDi/ML430 'Pictor' 5 spoke 8.5Jx17 on 275/55R17109H. ET52
" Pictor Wheel Photo
ML350 'Thuban' 5 spoke 8Jx17 on 275/55R17109H. ET52
" Thuban Wheel Photo
ML55 'AMG I' 5 spoke 9Jx18 on 285/50R18109H. ET42
" AMG I Wheel Photo

Notes: Good choice of usable offsets, centre bore adequate.
Sprinter wheels require Porsche adapters. ML wheels require spacers, particularly at the front due to offset.
Reports coming in that ML wheels use the 14mm ball taper standard.


PORSCHE
Model P.C.D. Offset C/Bore
911, 924, 930, 944 >86 5 x 130 25 71.5
911 Carrera 2/4, 928, 944 87>, 964, 968, 993 5 x 130 45 71.5
Notes: High offsets but with adapters many choices of style available.

SEAT
Model P.C.D. Offset C/Bore
Alhambra 5 x 112 35...38 57.0
Notes: Offset usable but small centre bore diameter means a need to machine the front wheels.


VOLKSWAGEN
Model P.C.D. Offset C/Bore
'Caravelle, Passat 96>, Sharan, Transporter' 5 x 112 35...40 57.0
Notes: Offset usable but small centre bore diameter means a need to machine the front wheels.

Genuine South Africa 5-spoke wheels, as fitted to a 1995 2.6 Microbus c/w pas. They are 6 1/2" x 15", ET30, running 205/65/15 (load rated 94 from genuine SA spare) which come in nicely for std. rolling radius. I have driven the bus without pas and it's probably about the limit without mods (Silverbullet:)
Wheel specs, PCD, Adapter,
Wanting to know what alternative wheels will fit your van?
Well a T25 wheel has a PCD )Pitch Circel Diameter) of 112, with 5 holes for 14mm studs or bolts
PCD stands for pitch circle diameter it is basically the positioning if the bolt holes on your wheel reim.

The factory spec for the steel rims is 5,5JX14H1 ET39 5/112

Adapters for alternative wheels from www.performancealloys.com
Syncro alternative wheels
Syncro options - See Syncro Alternative Rims
Loogy's Ultimate Wheel Post Part Two
Recommended read: This is a very well researched and comprehensive article written for TheSamba.com forum 
 by Christopher Schimke at T3 Technique


VW Standard Wheel Information
Diameter The diameter of wheels, even in this Metric age, is always measured in inches ("). The Standard diameter for a T25 is 14". This does not apply to Syncros, which have wheel diameters of either 14" and 16" (Syncro 16) as standard with 15" commonly replacing the 14" ones.
Width
The width of wheels is also measured in inches; the standard for the T25 Steel wheel is a 5.5" width rim. For the standard Alloys this increases to a width of 6". This measurement is sometimes written with a leading J - i.e. J5.5

Bolt/Stud Pattern
The Bolt/Stud pattern or Pitch Circle Diameter (PCD) is the diameter, spacing and number of the wheel studs or bolts. The T25 standard PCD is 5x112 meaning five (5) Wheel Studs or Wheel Bolts equally spaced in a circle whose diameter is 112mm.

Wheel Offset
The Wheel Offset is the measurement in millimeters from the widthwise centre-line of the wheel to the mating-face of the wheel with the hub, disc or drum. e.g. where the wheel retainers (e.g Wheel Nuts or Wheel Bolts) mate with the wheel. This measurement is often stamped on the rim e.g. ET 30 (ET means Einpresstiefe which is German for inset depth and the value is in mm).

Summary
Most 2WD T25s left the factory with either:
Steel Wheels of 14 inches in Diameter with a Width of 5.5 inches, a stud pattern of 5 studs in a circle of 112 mm and an offset of 39 mm. Normally written as 14x5.5 PCD 5/112 ET39.
Alloy wheels of 14 inches in Diameter with a Width of 6 inches, a stud pattern of 5 studs in a circle of 112 mm and an Offset of 30 mm. Normally written as 14x6 PCD 5/112 ET30.
Points to consider when changing to alternative wheels


Bolt/Stud Pattern
The PCD 5/112 is common to Mercedes, many Audis and many VWs. Other PCDs i.e. Porsche, can be used on a VW T25 through the use of adapters.
The use adaptors mean that any alternative wheel must have an offset of at least 50 mm (particularly the front wheels).
Wheels with an offset below 50 mm means the wheels will stick out too far leading to:
Fouling of the bodywork
Heavy steering, even a tendency to want to go straight on
Increased load on the wheel bearings reducing the life of the bearings.

Wheel Offset and wheel size
Wheel size and offset go hand in hand in most cases. The ideal offset for the front of a VW T25 is between 30mm and 39mm. A little more or less is sometimes okay, but it really is best to stay as close to the ideal as possible. The following is a list of wheel sizes and their recommended offsets in relation to the FRONT of a VW T25:
15x6 - ET30 - ET35
15x6.5 - ET30 - ET35
15x7 – ET30 - ET32
15x7.5 – ET25 (not recommended)
15x8 – ET18 (not recommended at all – wheel will be outside the wheel opening)
16x6 – ET30 - ET35
16x7 – ET30 - ET35
16x7.5 – ET28 - ET30
16x8 – ET17 (not recommended at all – wheel will be outside the wheel opening)
17x7 – ET30 - ET35
17x7.5 – ET28 - ET30
17x8 – ET25 - ET30 (possible slight upper control arm modification needed)
17x8.5 – ET23 (not recommended)

Below are a series of illustrations showing how the VW T25 suffers from a height versus width issue when it comes to fitting wheels onto the front. The illustrations, although slightly exaggerated, clearly show how simply changing the diameter of the wheel can have a big impact on the fitment.

Hub bore or Centre bore
The Hub bore or Centre bore is quite simply the central hole in the wheel. Contrary to popular belief this is only to position the wheel on the hub centrally (co-axially); it does not have anything to with keeping the wheel on the vehicle. If the hole is too small your centre cap/trim will not fit or, even worse, the wheel itself will not fit on the hub.
T25 Wheels have a Hub bore diameter of 66mm, Mercedes wheels have a 66.56mm centre bore. Other Audi/VW wheels have a 57.1mm centre bore.
Due to the large diameter of the VW T25's front grease cap, a centre bore of at least 64mm is required; maybe even more if a centre cap is to be fitted.
Obviously, the Mercedes wheels will fit just fine but the Audi/VW wheels must have their centre bores enlarged in order to fit. It is recommended that the Audi/VW centre bore be opened up to the same inner diameter of the Mercedes wheels, 66.56mm, which gives good clearance for the grease cap.
This enlarging of the centre bore is not a task that can be carried out using DIY tools; it must be carried out by someone who knows what they are doing e.g. an experienced machinist/ machine shop.

Wheel Nuts, Wheel Studs and Wheel thickness
The 2WD T25 has the slightly unusual setup of Wheel Studs & Nuts for the Rear wheels and Wheel Bolts for the front wheels. These both require a wheel with 14mm diameter holes for the Wheel Studs/Bolts.
Mercedes wheels are designed for use with 12mm diameter Wheel Bolts so therefore they must be bored out to the 14mm VW requirement. NB. It is highly recommended that this task be undertaken by an experienced machinist/machine shop.
Another factor to consider is the shape of the mating face of the Wheel Nut or Wheel bolt. Depending upon the material/make of the Wheel itself these Wheel Nuts/Bolts either have a conical or cone shaped face that mates with the wheel or a ball shaped face that mates with the wheel.
Standard VW 14" Alloy wheels (e.g Carat model) need to be mounted with cone type Nuts/Bolts whereas Standard VW 14" Steel wheels need the ball faced type.
Mercedes and Audi/VW wheels with 12 mm holes use a small ball seat Nuts/Bolts. Original VW T25 Nuts/Bolts are too big to seat properly. The following picture shows the difference in size.

How do you know if your wheels require the small ball seat Wheel Nuts/Bolts or if the standard Wheel Nuts/Bolts will work?
If you had to drill out the holes of your factory Mercedes wheels (not aftermarket) to 14 mm, you need the small ball seat Nuts/Bolts.
Mercedes wheels with 14mm holes can use the standard VW T25 Nuts/Bolts.
If your wheels are factory non T25 Audi/VW, you also need the small ball seat Nuts/Bolts.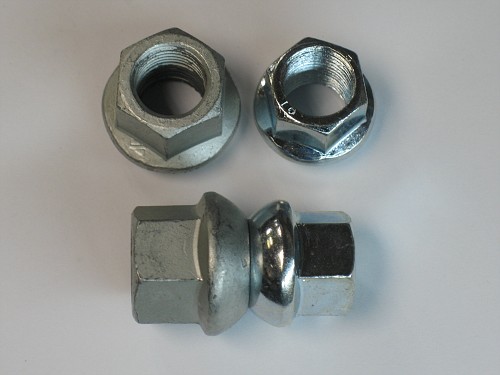 Wheel Stud/Bolt Length
Fitting alloy wheels and/or Wheel Spacers will mean that longer Wheel Studs/Bolts will be required to safely secure the wheel.
Different types of Wheel have varying thickness from the base of the Nut/Bolt seat to the wheel mounting face - the area in question is that highlighted by light blue arrow.
This measurement must be known in order calculate the necessary length for replacement Wheel Studs and Wheel Bolts.
The following illustration provides a clear explanation.
Front Wheels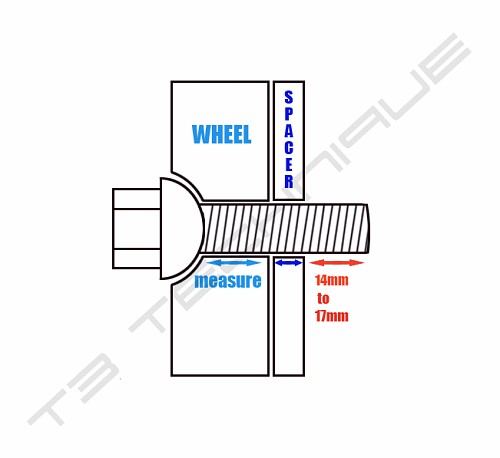 'Rear Wheels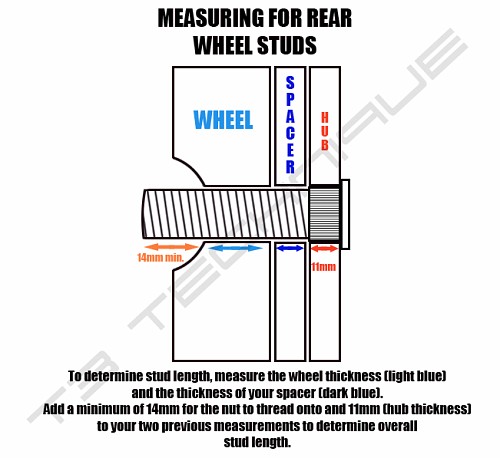 The standard 2wd and Syncro VW T25 rear wheel studs are 34.4mm long overall. Approximately 23.4mm of this stud protrudes from the Brake Drum.
On Syncros the front wheel studs are approximately 45mm long overall. Again, approximately 23.4mm protrudes from the Hub/Brake Disc.
NB. Wheel Nut/Wheel Bolt torque will remain the same no matter what wheels you are running. All should be torque tightened to 132 lb-ft. Also see Torques for wheel nuts or bolts

Centre Caps:
Due to the long hub/grease cap of the VW T25, fitting centre caps can be a challenge. If you are overly concerned about having centre caps, try to choose a wheel that has the flattest face possible. The more that the wheel is "dished" in toward the centre, the less likely it is that you will be able to fit a centre cap. Even with a flat-faced wheel, the mounting style of the centre cap may still prevent its use.
See the following illustration to help you determine if a particular wheel's centre cap might fit.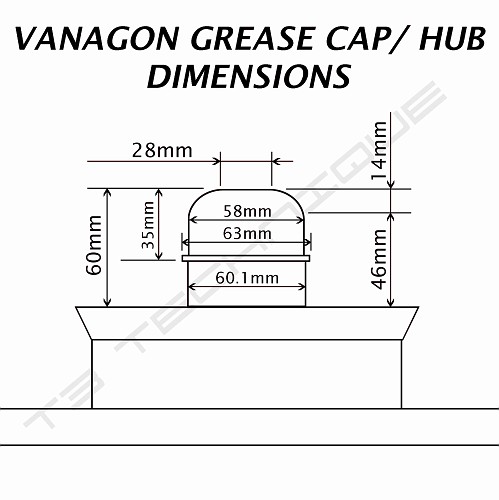 Keep in mind that there are two sizes of grease caps that came on VW T25s. By far the most common is 35mm in height. The taller version is 43mm in height. It is possible to shorten the 35mm grease cap by approx. 5mm if needed for centre cap clearance. The 43mm grease cap could be shortened by 13mm.

The following photo shows the tallest grease cap on the left, the most common grease cap in the centre and the 5mm shortened version on the right.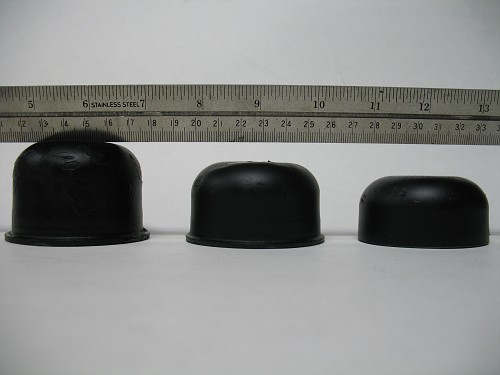 Note for those either running or those thinking about fitting South African (SA) big brakes:
The SA big brake kit uses a hub that has different dimensions than the original VW T25 brake Hub/Brake disc. They also use press in Wheel Studs like the rear instead of Wheel Bolts. Here are some critical specs from the SA big brake that one should be aware of when using them in conjunction with various wheels.
The SA hub tapers from approx. 60.1mm at the grease cap to 65.86mm at the mounting face of the brake rotor. This information is critical when it comes to enlarging the centre bores of Audi/VW wheels as well as the use of hubcentric spacers. I still suggest that Audi/VW wheels have their centre bores opened up to 66.56mm.
The SA hub also positions the track width (measured from mounting face to mounting face) 5mm narrower than the stock brake setup. This means that a given wheel will mount 2.5mm (2.5mm per side) further inboard when using the SA brake kit as compared to the stock VW T25 brakes. If your current wheel or wheel/spacer combination is really close to either the upright, upper control arm or both with the stock VW T25 brakes, it is possible that you could run into clearance issues when switching to the SA brakes.
The SA hub uses press-in studs that are 51mm in overall length. 29.7mm protrude from the hub once the Brake Disc is installed. This information is critical when it comes to knowing whether or not a particular wheel or wheel/spacer combination will leave with enough threads to properly install the Wheel Nuts (The German MoT specialists (TUV) look for a minimum of seven (7) turns). The knurl (spline) diameter of the SA studs is 15.1mm.
Porsche spec studs can be used as a replacement, but a tack weld at each stud head may be necessary to keep the stud from spinning in the bore under extreme conditions.

Additional notes:
1: When installing spacers, adapters or even just changing wheels, it is usually necessary to remove the two 11mm headed bolts from the rear drums. These bolts serve no practical purpose and it is perfectly fine to discard them.
2: Keep in mind that the higher the offset, the less clearance you will have to critical suspension components. If you plan on running a wider than normal tyre, check your clearances very carefully.
3: Spacers can only be used to correct a wheel's offset if it is too large. Spacers will not help you if the wheel's offset is too small. Only machining of the wheels can help you there.
4: The offset does not need to be the same front and rear on a VW T25. Sometimes it is actually better to have different offsets front and rear. The rear suspension is much less dynamic than the front and therefore is not nearly as sensitive to offset changes.
5: If you follow the same fitting guidelines for the front and rear of your VW T25, you can be assured that the rear will fit properly without any sliding door clearance issues. For example, 16x7 with an effective offset of 30mm (after any spacers) will work both front and rear with no problems.
6: The offset of the wheels can affect the tyre clearance greatly. More offset at the front wheels will give you more clearance to the body but less clearance to the front suspension components. Body to tyre clearance is usually not a problem on the rear of a VW T25 but more offset will decrease the clearance between the tyre and rear control arm as will a larger diameter. Please keep this in mind when comparing wheel and tyre combinations that others have used.
7: Syncros and 2wd VW T25s have very different front suspension parameters. Syncros can handle a much wider variation of front wheel widths and offsets. However, if you follow the 2wd front wheel guidelines, you can be assured that the wheels will fit your Syncro as well.
Christopher Schimke at T3 Technique

Further links to alt.wheels on TheSamba.com can be found in the Links section below...
Further links
| Brickyard tyre to fit based on rim width
at 9/7/06 From the brickyard forum, list being compiled by Pork dub
A 'must read' for safety, wear, performance and general technical issues of tyres, wheels and steering gemometry; then browse the articles in link below...
TireRack.com: Plenty of technical information on tyre usage, performance and safety information here, including many excellent articles and test results
Samba forum: The Ultimate Wheel Post
Samba forum: The Ultimate Wheel Post Part Two
Alloy wheel fitments 1 (Size, PCD and Offset)