VW Electrics Square Headlights
From VW T25(T3)-Tech
Jump to navigation
Jump to search
Square Headlights
Inner main beam lights are The same as a MKII Scrirocco They are becoming hard to source and are no longer available from dealers. The Hella part numbers for RHD are LEFT 301-127 761-01 RIGHT 301-127 760-01 This is etched into the glass. The Adjusters are hard plastic and are very difficult to remove without snapping I have found it is best to remove the entire headlight unit to get to the rear plastic retaining lugs and rotate them by 90 degrees to remove all at the same time. The two upper ones are adjustable and the lower one is fixed (The Scrirocco screws are shorter and probably not suitable but some of the plastic clips are interchangeable). If you have condensation in your lamp I managed to remove it by removing all the plastic parts and oven baking for 10-20 minutes at 100degrees, take it out and shake it to disperse the droplets and aid evaporation. There is a fix which involves using a bag of silica gel attached to a piece of fishing line or dental floss popping it in then refitting the bulb and leaving it in till the moisture is absorbed. The string is used tea bag style to retrieve the bag when done. It would save you having to remove the plastic clips which are likely to snap. When refitting clean up the threads of the adjusters as best you can with scribe or small wire brush and coat with copper grease so adjustments can be made easily without the rust on the screws binding and ending up with chewed screw heads, it sees a lot of weather in its position and any rust prevention you spend time on will pay dividends in the future when bulb replacement or adjustment comes around.
Square Headlight inner adjusters
Cruz
Adjusters needed for each square inner light 1x 255-941-133A 2x 255-941-141B
You may or my not be aware but the headlight adjusters for the square inner main beam headlights are obsolete and the only source is to buy expensive reproductions from America which at my last reckoning was about £36 (gowesty) for adjusters for both inner lights not including any taxes or customs charges at this end which may apply
Having recently found a source of the obsolete 191-941-297 headlamp adjuster at eurocarparts I thought I'd have a look to see if an adjuster from another VW vehicle of that era would suffice and I came across adjusters from a Mk2 Golf (picture below)
Adjuster 191-941-133 is a perfect replacement for 255-941-141B
Adjuster 191-941-141 is just about 5mm shorter than 255-941-133A so the inner light will just sit that little bit lower than the dipped headlight unit in the grill but once you have had them aligned it shouldn't affect the functionality of the high beam.
The 141 adjuster has a slotted head and not a pozi drive head. But that is a small price to pay I say.
Tonight I tried the adjusters in my headlight frame and they fit the holes fine.
So onto the two sources for these parts.
Both adjusters are available from eurocarparts and eurowagens with free shipping. One is cheaper than the other.
For each inner light you need 2 x 191-941-141 and 1 x 191-941-133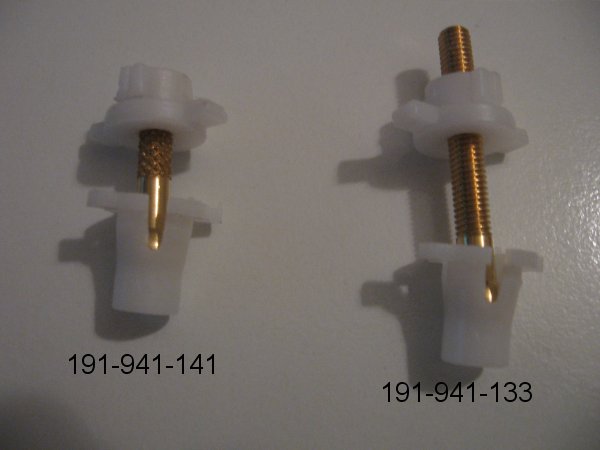 Eurocarparts 191-941-133 @ £2.39 Eurocarparts number 470440331 191-941-144 @ £3.48 Eurocarparts number 470440341
Eurowagens 191-941-133 @ £1.49 191-941-141 @ £1.49
Eurowagens regularly do a set of 3 adjusters on ebay (a kit for each inner light) for £5.49 http://myworld.ebay.co.uk/eurowagensltd
So basically instead of £36+ you can get a set for the inner lights for less than a tenner
Hopefully people can follow this

Current availability of Adjuster as at March 2011
Below is a post I made on the brick-yard regarding availablity of adjusters for square headlights
---
Some available still from VW, some not
2 x Number 10 - 255-941-141C adjusting screw for horizontal adjustment available (24/2/11)

2 x Number 11 - 191-941-297 adaptor with adjusting screw for vertical adjustment - obsolete from VW in the UK but available from classic parts in germany and eurocarparts.com (eurocarparts part number 470440351 and available from eurocarparts as of 24/2/11)
2 x Number 8 - 255-941-133 adjusting piece available (24/2/11)
10 x Number 8A - 7L0945299 - Little plastic clips for the screw heads available
adjusters for square main beam light
2 x Number 9 - 255-941-141B obsolete not available from classic either
2 x Number 12 - 255-941-133A obsolete not available from classic either