VW Electrics Headlight warning buzzer
From VW T25(T3)-Tech
Jump to navigation
Jump to search
Disco Dave: Easy! Get yourself a buzzer from Maplin. 

You can even get one that plays music! Attach the +ve wire to the dash lights. Easiest place to do this is being the cigar lighter where the light is on that or the light behind the heater controls.
Connect the -ve to the door switch on the drivers door. If you take the door switch out there is a terminal on the back. You need to connect to this.
Then the buzzer will sound when the lights are on and door is open. However this will not sound if you leave the parking lights on.

Mk II: If you use the +ve from the lights to +ve to the buzzer and you use the +ve from the ignition to -ve of the buzzer then when you leave the lights on and turn off ignition the +ve of the ignition turns to -ve so the buzzer sounds. Switch the lights off and all is quiet.
The problem with wiring to the door switch is that if you pull over and dive in the back for a kip or exit through the side door then the buzzer doesn't sound!
---
Billy739: This works perfect, but not as intended!

This makes a buzzer sound if your lights are on and the ignition is off, it is not affected by open/closed doors! I know this isn't as most peeps would like but it's easy and available!
Also this will only work if you have blade fuses as fitted to late 86ish 'C' reg vans on
This also only works if you have the 99 wiper relay fitted, not the 19 or no intermittent wipers.
Basically what you need is the 292 relay as fitted to late VW Caddys and from what I can see most late 90's Seats.

Taurus: The VW part number for the 292 relay from the caddy van is IOL0951307 and costs £16.07 including VAT

All you have to do is plug it into slot 7

I have put this mod on several vans now without problems.
This is the relay as it fits in the seat/caddy , so you know where to look. It sits out of the fuse box in its own little carrier!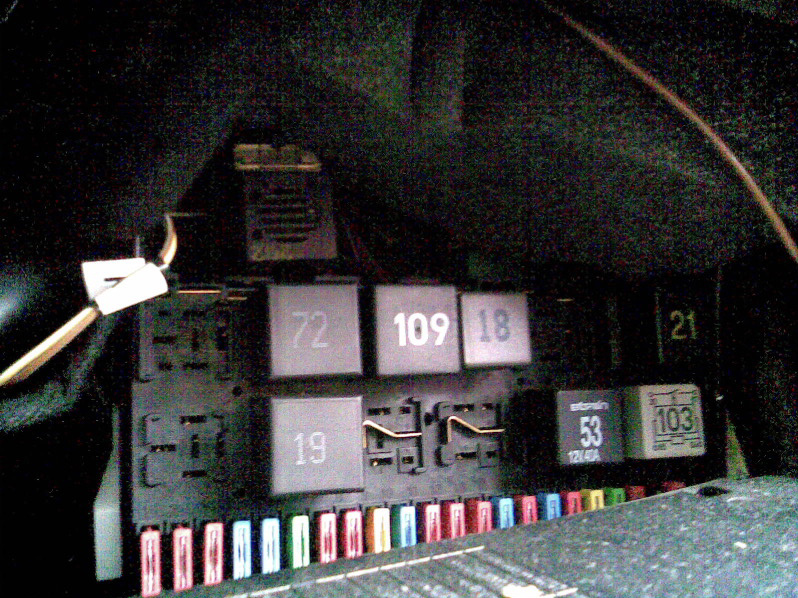 This is the relay fitted to my van