VW Electrics Changing Ignition Switch
From VW T25(T3)-Tech
Jump to navigation
Jump to search
just the nylon switch, about £6.00 from Brickwerks or other good VW suppliers....NOT the whole lock mechanism!!!!!

California Dreamin Just in case you were wondering why there is so much work involved.. VW designed the switch so the single retaining screw was/is inaccessible in situe. It was designed this way for security and so requires the removal of the aluminium steering lock housing to gain the necessary access.
Remove steering wheel, being careful not to disturb it's straight ahead position.
Remove plastic column cowling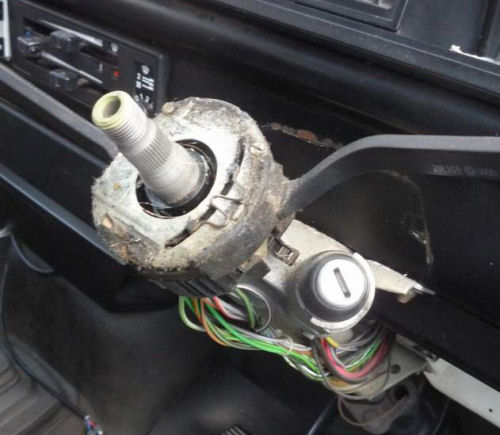 remove switch gear (3 screws)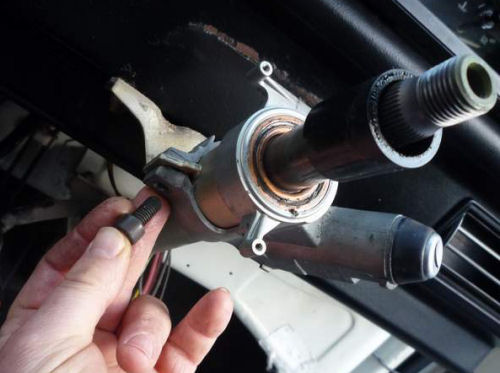 Using a small, sharp cold chisel, knock around the head of the shear bolt on the housing clamp (underneath) You can replace this with an ordinary 8mm bolt, allen key head is best(the proper shear bolt offers a little extra security against a would be thieve and that's all)
Put the key in the barrel and turn to the first position (you need to do this to release the steering lock)
Pull off ignition the switch switch plug.
Pull off the lock mechanism sleeve to reveal the single screw holding the switch (sometimes this requires careful application of a hide or copper hammer)
Take out the ignition switch retaining screw
Swap over with new switch
rebuild reverse operation
Done
Aidan cowling for steering colum off, steering wheel off, switches off, remove the allen bolt securing the steering lock and ignition switch etc...(INSERT KEY TO FIRST POSITION TO DISENGAGE STEERING LOCK!)disconnect electrical connector and pull the whole lot off, the ignition switch electric part is a seperate part on the bottom held in place with a little screw, unscrew and pull out, buy new one, fit and reassemble can't believe it's not on wiki mind
Ed it is now!