Steering and suspension Radius-rod and bushes
From VW T25(T3)-Tech
Jump to navigation
Jump to search
General
These take braking loads (and accern loads syncro) and control the caster angle by virtue of the 
rear nut and cup washer on threaded rod.

When changing if you need to move the rear nut, then mark its position accurately first (controls caster angle)
When worn and corroded as bad as these parts, new ones make quite a difference to handling and surefootness of vehicle, esp. in roundabouts I found.
Images (old Vs new)
Old bushes and sleeves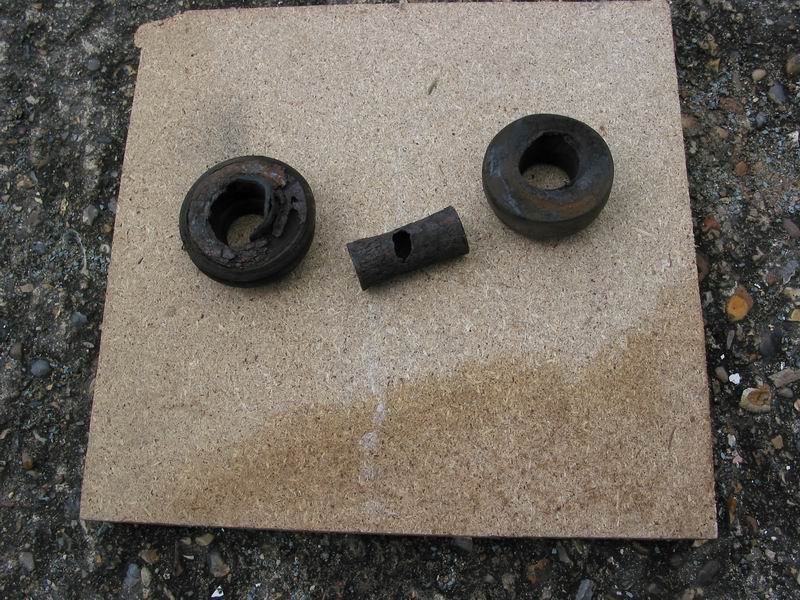 New bushes, sleeve and original cup washers...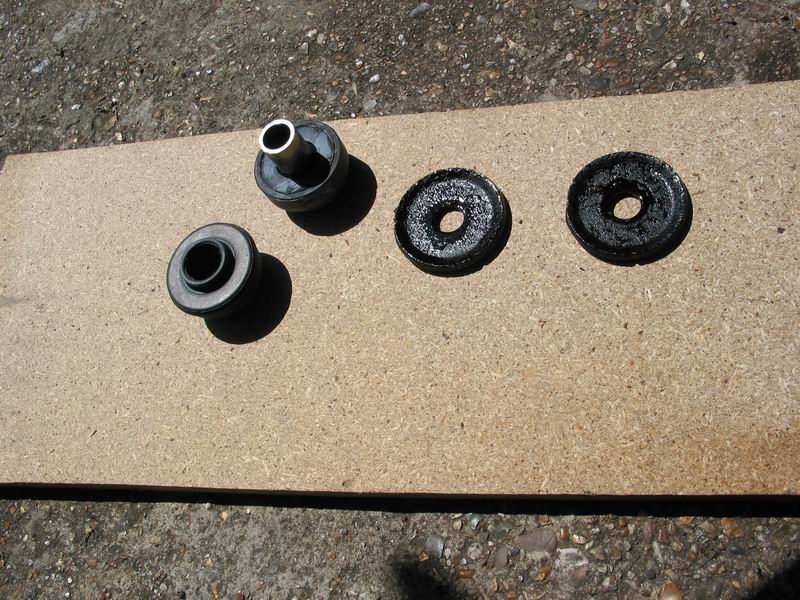 Radius rod (early version, pre 1988/89 approx.)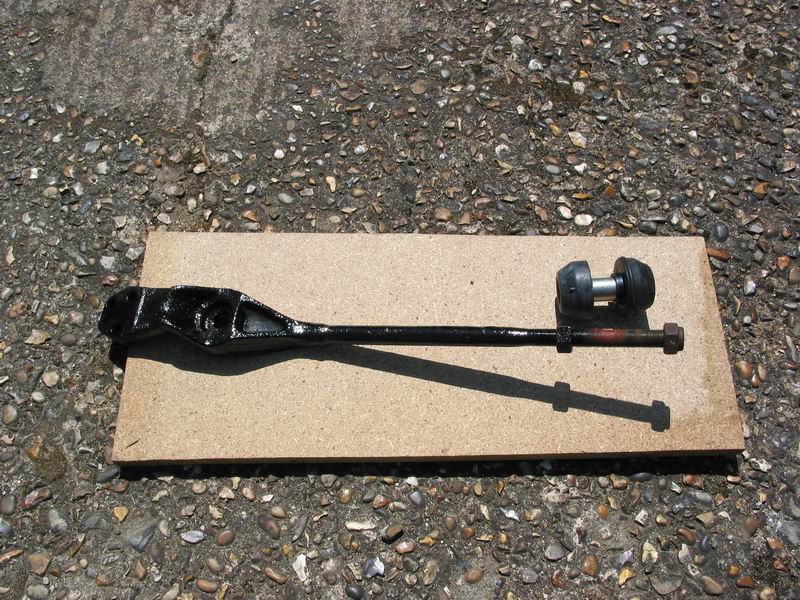 Part Nos:
-- Bushes and sleeves--
Rubber Mounting (Inner) 251 407 175 (2) (believe the one with the protrusion goes at the back, i.e. inner)
Rubber Mounting (Inner) 251 407 179 (2)
Spacer Sleeve 251 407 097 (2) (Now listed as NLA by VW)
NB. Brickwerks can now supply stainless sleeves (Nov 2008). Or dimensions are listed below should you have access to a lathe.

--Radius rods--
There are two types:
241 407 059 (left)

... ... 060 (right)
which bolts onto the wishbone
and ... .. 059 A and 060 A
which screws into the (later, cast) wishbone
The change ocurring at frame No. 24-F-019-682
Spacer specs.
sezicoolcat: The spacer is now listed as NLA by Volkswagen
Material: Hard steel
Dimensions (as measured):
Length 55mm
OD 24 mm
ID 19mm (radius rod and nut is M18x1.5 thread)
Finish:
Fine machined finish + anti-corrosion treatment.
A broken radius rod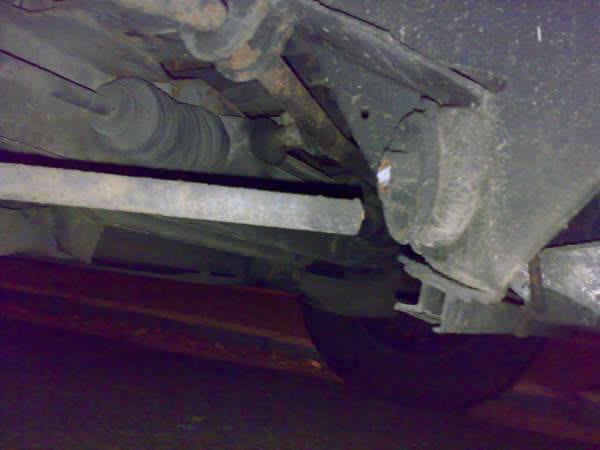 Andy Syncro-Nutz: The screw in type rods i have seen snapped right at the lower arm.
fairwynds: I saw one (at a breakers yard!) that was bolted DIRECTLY to the sub frame! The subframe and bar were, to put it politely......s*&%ged! (not bushed with rubbers)
Simon Baxter: They break fairly frequently.
Usual thing is for the radius rod bush sleeve to be almsot nothing and the rod starts getting nibbled away, sometimes snapping there, between the bushes but I have seen late ones breaking off just after the thread by the bottom arm.
Radius rod bushes I can guarantee will be knackered unless you have had them replaced. I don't even think I have taken one off and been able to put it back on again.
The sleeves are obsolete hence me getting the stainless ones made.
SAFETY: So it seems likely that severe corrosion is responsible for these breakages, so if you've any doubt, check them out. These rods act as drag-links for braking loads, they're unlikely to break unless badly corroded, but now at 20+ years, looks like they can if water has been able to lodge between threads for long enough, and at the front mount, it's an ideal water trap between sleeve, rod and rubber bushes. The later design that screws into the lower arm, also seems to have a weak point there
HM: So clean threads and adjacent bar, and assemble with a grease (rubber grease or maybe copper-slip?), to keep water out and corrosion at bay.