Prices campervans
From VW T25(T3)-Tech
Jump to navigation
Jump to search
These prices and descriptions are collated from Ebay they are an indication only. No research has been done into the accuracy of the descriptions Hopefully these prices will give you some indication of asking prices.
Campervans
Autohomes
Komet
End time: 23-May-06 21:39:30 Sold For:Reserve not met at £4100
This is a reluctant sale, but as we have invested in a Caravan, needs must, we need the room!! Overall the Camper is in excellent condition with only minor blemishes showing. It has in the past, before we bought it, had some paint work carried out which is of a good standard but a slightly different shade. The Camper comes with 240v Hook Up, Gas Hob and Grill, 3 Way Fridge Freezer, Propex Heater, Zig Charging Unit, Leisure Battery, Sink/Drainer and Under Seat Water Tank and it's a 4 berth, 2 up 2 down. Since the purchase of the Camper we have had new curtains made to measure and the rear seats upholstered to match. It has been regulary serviced by myself and also recently had a new VEGA engine installed along with a new Clutch, Radiator, Water Pump and Exhaust. Since the replacement the van has only covered approx 400 miles, it is running at present without a thermostat, which is fine in these conditions, but I would advise whoever may buy it to have one installed. The body work as explained is in very good condition both above and below. I have with the vehicle the original instructions for the use of the equipment installed along with the numerous receipts. I have just had it MOT'd tll May 2007 and it currently has tax for another 5 months. To get you started on your adventure I will also include a Full Drive Away Awning that has only been used 4 times, a full Waterproof Cover and Thermo Mats for the windows. Viewing and test drives are available in the evenings or at weekends, just contact me through EBay and I will arrange a convenient time. Hope you like? Email me if you require any further information, I will be pleased to help. I must point out this is the second time of listing, I really do need the space back on my drive so please someone buy her!!! Unfortunately the buyer will have to collect and payment be made within 7 days of the auction end. I would also like to point out that the Camper is being advertised elsewhere and I reserve the right to cancel the auction at any time... Sorry!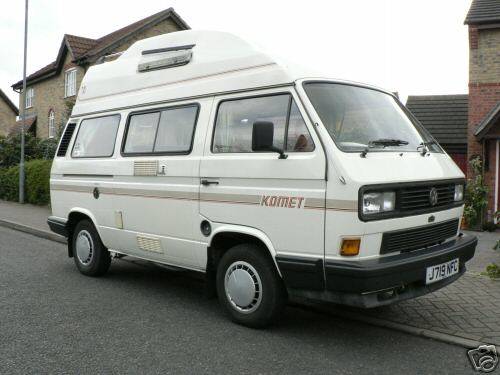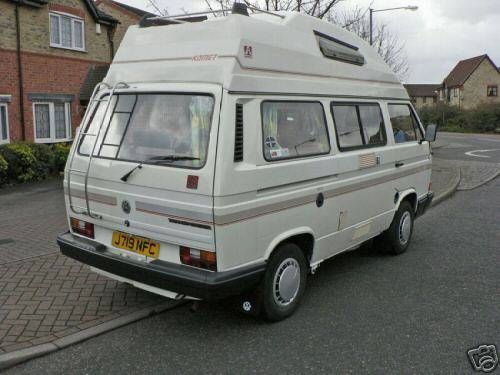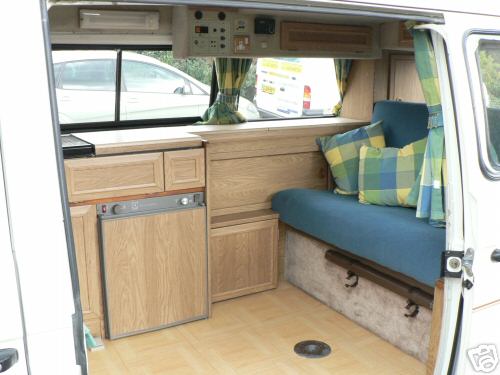 ---
Ended: 20-May-06 23:25:52 Sold for no more than £6500, see description Volkswagen T25 Camper. First registered 20/09/1991. Full VAG service history to 55k and then specialist to current mileage (65k). All paperwork is with vehicle including all MOT's, service invoices, mauals,even original sales invoice (£17,500) all kept in supplying dealers wallet (Spinney motorhomes). The conversion is by Autohomes. It is the top of the range Komet. Five berth. Seating for six all fitted with safety belts. Three of these are captain chairs. Usual fittings, hob, grill, blown air heating, fridge, porta potti, all work perfect. Running water is supplied by floor operated pump via large on-board water container with guage on zig unit. Even comes with original dinner service. Interior is mint condition. Engine is faultless, uses no water or oil. Start first time every time. Five speed gearbox. Drives perfect. Bodywork is very good having no welding or damage to date. Two bike Paulchen rack system fitted. Vehicle will be sold with full MOT. Viewing is recommended. Anyone with negative feedback or less than ten rating please e-mail first before bidding. Withhold the right to withdraw as advertised elsewhere. Thanks
Offer has now been made from viewing bidder. If anyone wishes to come and view camper and offer more than £6500, you own it, otherwise it will be sold Sunday eve. Sorry to have do do it this way but you would pay £8000 for similar vehicle from trade and I guarantee it would not be in this condition and nothing like the documented history this has. Thanks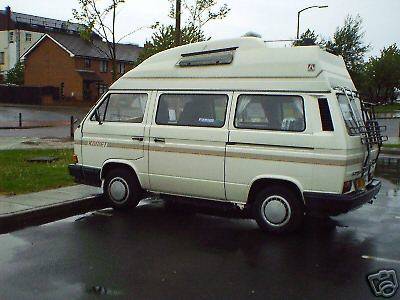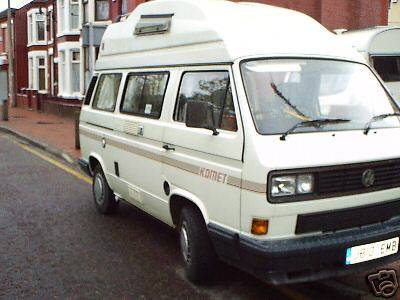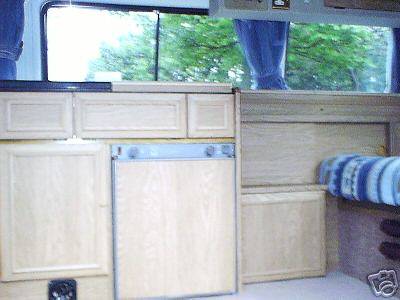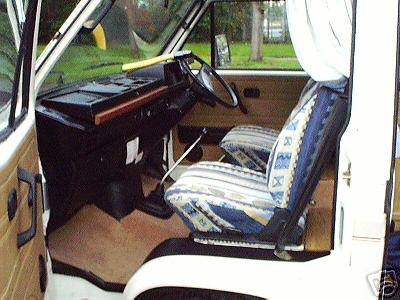 ---
Karisma
VW VOLKSWAGEN T25 AUTOHOMES KARISMA II CAMPERVAN 1988 End time:28-May-06 20:25:12 The bodywork is truly immaculate and in superb condition with no rust whatsoever not even slight bubbling. Professionally undersealed a few years ago which protects the camper from corrosion, it's clearly evident that this is really paying dividends now. There also is no dents, branch scratches or digs. Under close inspection you may find the odd very minor mark or blemish but nothing that will take away from the fact this camper simply gleams and looks great. There is very slight colour variation around the rear drivers wheel arch. The Karisma graphics are still as sharp as the day they were fitted. Has a roof storage area accessible by ladder along with a tailor-made waterproof cover to keeps any belongings perfectly dry. Instruction Manuals for all Appliances including the Original Autohomes Manual
Expensive Sony Face Off CD Player (Model CDX S2200) with Speakers Throughout Water Heater 2XSwivel Captain Style Front Seats rear ladder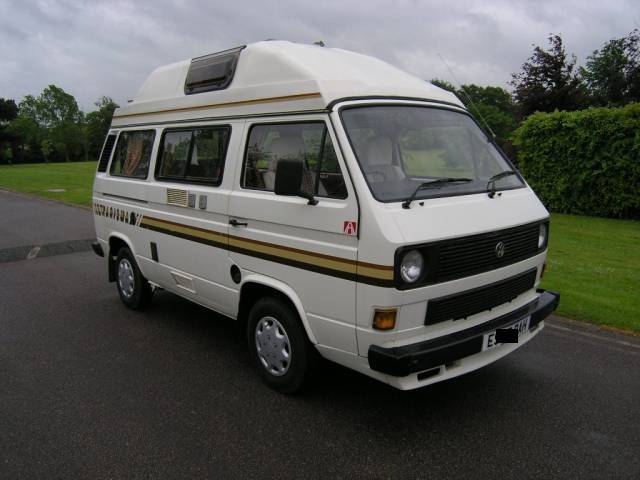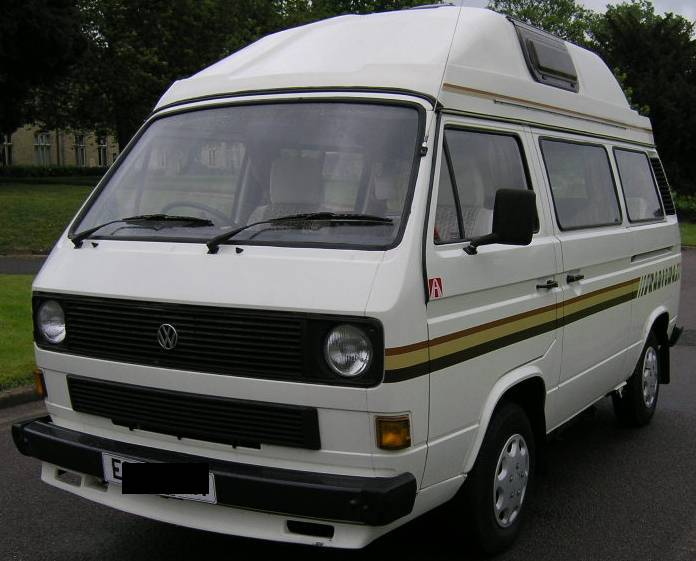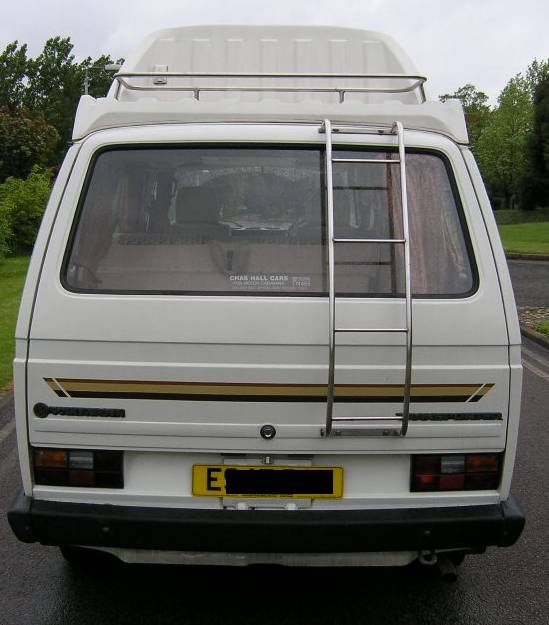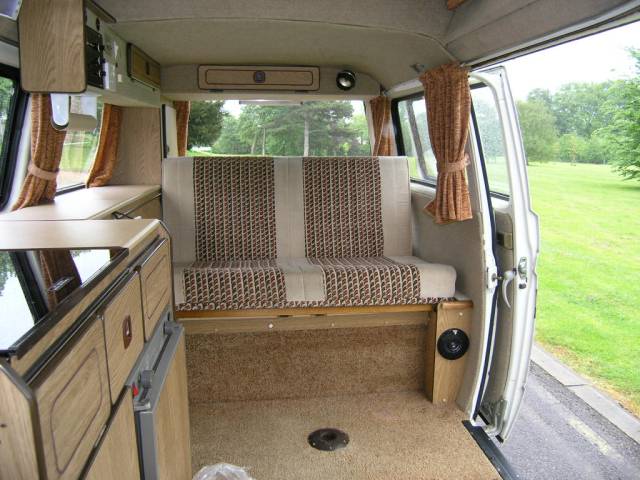 Autosleeper
Trident
1990 VW Camper Autosleeper Trident Campervan End time:11-Jun-06 15:45:00
What's to say? The pics in the car park are up to date, the camping ones a while ago although they show the awning rolled out. There is a bit of rust showing in the seams on the offside rear and I also got caught behind a gritter on the M25 whilch has produced a few chips on the front.
She has the standard Volks layout of rear seat that folds out to make a comfortable double bed, a blown catalytic hot air heater for camping, two ring + grill cooker, Electrolux Gas/12V/mains fridge, electric water pump from on-board tank, separate waste can.... The Thetford PortaPotti will go into the cupboard but wouldn't with the door fitted...I have the door, you may verify the fitting problems for yourself. You can have the Porta Potti.
Front passenger seat is a swiveller, can face backwards as shown in the pix, and has been mounted slightly higher than normal to accomodate a pukka leisure battery instead of the car battery normally used on the aux 12V. (The main 12V vehicle battery I bought a couple of months ago BTW - a heavy duty from Halfords)
With the van you get the Fiamma 2.5m awning bolted on the side, a set of J&M Silver Screens that go outside the windscreen and doors (see the pix) there is a rear door external screen and some internal screens for the side window. These are intended to keep cold/heat out and comfort IN. They work. If you don't want to use them the van still has it's internal curtains fitted although they have frayed where they contact the seat belts up front. They'll still preserve your modesty, though. As I said you can have the Porta Potti and the step, together with levelling wedges and tripod legs to use the van tables outside the van. The van has two table tops and tubes BTW.
She also has a JVC CD/radio with removable front for security.
So if it's so great.....? I find that nowadays I simply can't take holidays of more than a day or two. I therefore find myself using the van as transport to/from work, and I do 50 miles a day. At 24 miles to the gallon (roughly) I'm not using the van for what it does best, but for a task it is overspecified for.
VANS ARE MEANT FOR CAMPING and I'm getting unable to do that.
If you want to discuss the van or view it email me......she's not new, she has odd wheel trims because I lost one on a road hump and the Volks wheel trims cost £36 EACH or did at the time....
I've got a few of the reciepts and bills, the MOT expires in July because I can't take a day off to get one until later this month. But I'll be getting one.
I may advertise through other channels so she may be withdrawn from sale here.