General High Temperature finishes
From VW T25(T3)-Tech
Jump to navigation
Jump to search
For protecting and prettying steel/iron (non-stainless) manifolds, pipes, silencers and cooling ducts, air-cooled fan housings etc. 

High Temperature paints, finishes and coatings can be used. Some can take very high temps and last well, but as usual, you tend to get what you pay for.
An expensive one
Here is one example: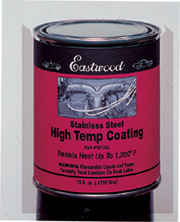 One I did earlier, after sand-blasting and brazing spluts and holes [HM]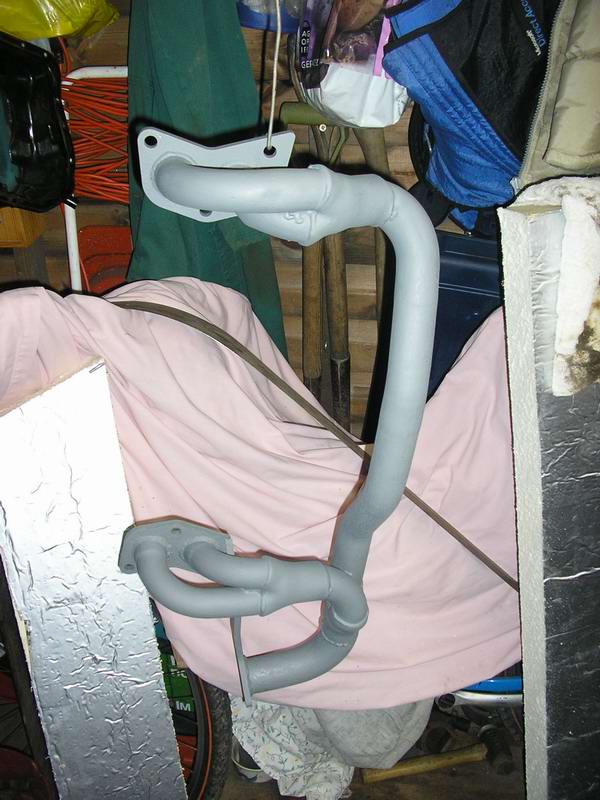 From the Frosts on-line shop or their catalogue
Brand: Eastwood
Item Code 10178
Product Name: Stainless Steel HT Coating (475ml tin)
Product Description: Stunning Stainless Manifolds
This high temperature Stainless Steel gray coating offers superior manifold protection. Thoroughly clean the manifold, brush on, allow to dry. Once installed, run the motor in a well-ventilated area for 20 minutes. The cured coating resists temperatures up to 650°C (1200°F). Lasts for years. Shelf life is one year. Keeps manifolds & headers looking new. One tin contains enough to coat up to 5 cast iron manifolds or a pair of headers.
Price ex vat: £19.15 Price inc vat: £22.50
Data Sheet:
Store between (12C- 35C). Manifold or tube header surface must be clean bare metal that is free of rust, moisture, grease, dirt, mildew, wax, loose particles, etc. For best results, abrasive blast or wire brush to completely remove rust.
Use only PRE-prep (10041) to completely remove residual oils. Allow the manifold or header to dry thoroughly.
Apply one medium coat assuring all areas are covered. If a second coat is desired, apply after first coat is dry (24 hours). Coating will completely dry overnight.
Approx. coverage 6 sq. ft. (0.56 sq metres)
A cheap one
Halfords and others do cheaper (and different styles) of heat resistant paint..