Exhausts Suppliers
From VW T25(T3)-Tech
Jump to navigation
Jump to search
This page covers sources for new exhausts (mostly stainless) plus custom ideas using parts from other vehicles.

VW still can supply many exhaust parts through commercial vehicle parts counters, their high quality original equipment exhausts will outlast any standard system out there but at a very high price.
Just Kampers version around £270
Stainless - VW Speedshop Full system in stainless £611.00 fitted (£100 to fit) (Note from Ghost123uk = as of recently, they no longer fit them, the price is now (Jan 2013) £460 + P&P

RAY: I had one from JP and fitted myself, although after just having a new engine fitted there was no trouble with manifold bolts etc. Oh and new silencer brackets made it easier too. Well pleased with mine £550 though (Syncro).
Jed: I payed £580 for my twin outlet shiney tailpipe badboy and was custom made and fitted in a day by Longlife

California dreamin The Brickwerks late Stainless system for Wasserboxers follows VW original pattern which helps for those who want to add bit by bit. Expensive but many consider it the best SS system on the market. Don't forget to sign up to get automatic club discount.

Fritz: I managed to find an alternative to the ones on offer to suit a 1.9 or the 2.1 motors for a mere 400 quid or so from LA Performance, looks great and sounds just a bit different than the norm...
Short oil filter may be required when fitted to the 2.1 LAP Zorst

GSF Part Nos 1.9 and 2.1 petrols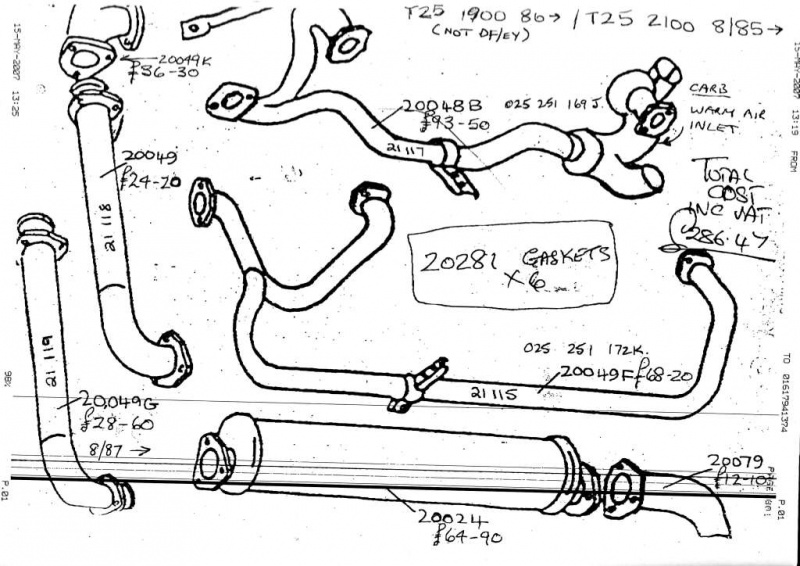 Diesels: These are harder to acquire... VW prices are quite high, esp for silencers. Since many diesels have alt engines now, many exhaust are custom made, or adapted. The importnat bit to keep in a TD is the downpipe (for the turbo flange fitting), which is the starting point very often.
Stainless Systems & Where To Buy Them
From 80/90 member Cruz:
These are for the most common watercooled 1.9 and 2.1 petrol engines and are not in any particular order
First of all you need to find out what exhaust system you have. Is it the early type or the late type? If your van was registered in 1985 don't go off your registration year as your van may have been built earlier than 1985.
The early exhaust was from 1980-1985 and the silencer is self-supporting (no support brackets) The late exhaust was from 1985-1992 and the silencer is larger and supported by two saddles

Standard mild steel Exhaust
Standard mild steel Early and late exhaust systems available from
1) Justkampers - Exhaust system bundle packs available
2) German Swedish and French Car Parts (GSF)

Late DG/DJ Stainless Exhaust Systems
1) Brickwerks sell an exact stainless steel copy of the original late exhaust system. You can change the whole system or just the parts that you need at that time, depending on your budget.
2) Jp Exhausts sell as well as fit their own late exhaust version. (Note from Ghost123uk = as of recently, they no longer fit them)
3) Turbo Thomas sell their version of the late exhaust system
4) It is also an option to fit the vwspeedshop early style exhaust system (see below for web details)

Early DG/DF Exhaust System solutions
1) VW Speedshop sell a stainless system that will fit both early and late vans.
2) Brickwerks are currently developing replica early stainless steel exhaust systems in consultation with their supplier. As this system will be the same as the original system you will have the option to change the whole system or piecemeal to suit your budget.
When they become available it will most likely be posted on the Brickwerks facebook page
3) Consult your local Longlife Exhaust Centre to see if they will build you a custom exhaust
4) Some members have reported that Turbo Thomas supply early stainless exhaust systems.
5) Fit the late style stainless exhaust to your early van. The silencer needs supporting on the late system so the parts required are 2nd hand Engine Mount (025-199-221A) and longer M10x85 bolts, Silencer Saddles and straps . (Stainless from Brickwerks or 2nd hand VW originals)
If I have missed anything (most likely) let me know

Custom Alternative Options
1) Custom DIY Exhaust- Covkid's low-cost custom exhaust for early systems using header pipe and a large stainless motorcycle silencer.

Further thoughts
Oldjets says:
Its an idea to keep an eye on VW Aircooled suppliers, who sometimes have T25 parts. My new silencer came from Machine7 during one of their half price sales and is good quality - weighs a ton, anyway. Good quality mild steel parts may last longer than you think if a full-on stainless system is beyond your budget. The old mild steel silencer (unknown make) on my DG had lasted 9 years!
Also, there may be some doubt over the quality of the cast knuckles currently available. Brickwerks even said theirs were made of poorer metal than they would have liked. I bought one anyway, and found that the casting needs considerable fettling on sealing faces and bolt hoes to get them square and ensure everything bolts up correctly. The actual metal though, seemed to be very good - nice close-grained iron with no blow holes. Once tweaked and fitted, it sealed first time and has given no problems at all.