Exhausts Custom
From VW T25(T3)-Tech
Jump to navigation
Jump to search
DIY Custom Exhaust - Early Layout
CovKid: For the adventurous who have the earlier /. ' .\ /. ' .\ type exhaust flange mountings, you might like to try this. Its certainly cheaper than a new stock silencer, sounds better, lasts longer and arguably performs better but does require some cutting. In fact a similar silencer swap can be done with the later system (to follow).
My camper is actually a watercooled 1.9 DG with the earlier petrol exhaust layout but this should also work on the earier 2000cc aircooled and some T2's as well. Diesel possibly not - might be too noisy.
Project: Stainless box half-breed exhaust.
What I've used here is a Japanese Kawasaki 98 ZX6R stainless silencer (yes bike) mated to a type4 header (1.7-2.0 aircooled custom type). The header is normally sold by Vw custom outlets with a quietpack or glasspack silencer which frankly, rots out quicker than a stock VW exhaust. The pipework (header) lasts years though (from experience) and you can buy them on their own or even buy the lot from Just Kampers (about £75 incl VAT)) and throw the silencer away or sell it. The headers frequently appear on ebay too. Numerous bike silencer cans will work but I chose this one as its big and non-restrictive, and crucially stainless. What you don't want is to buy a can that strangles your exhaust flow so bear that in mind.
I can't advise on the 3-bolt spacing on motorcycles as they vary quite a bit but you may well find a perfect matched can for the type4 header. You could I suppose, take the header to a bike-breakers yard and see what might fit. I got fairly close using the 98 ZX6R with relatively minor modifications. Australian bike rider 'Bladeracer' from Fireblade.org (thanks) tells me that a '98 ZX6R is 82mm centres and a '98 GSXR750 is 78mm centres - so the GSXR750 might be a better bet, as the header bolt spacing is I think, 80mm and you may only need a round file to sort the holes but as I haven't tried, I can't be absolutely sure. Go do some measurements!
Heres the header and can (silencer) anyway: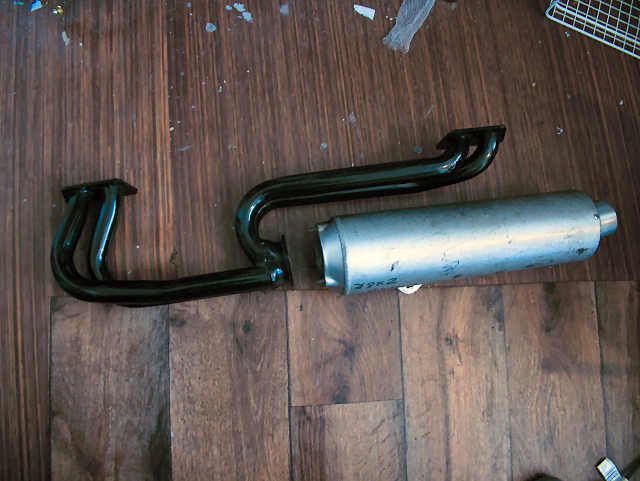 The 98 ZX6R silencer is surpisingly heavy but it does have a huge inlet (at least 2 1/2"). Bolting everything up is relatively easy although you'll need nuts and bolts rather than just nuts to attach to the rest of the VW pipework (stock VW boxes have studs remember).
Fitted: VERY low note indeed (not easy to hear in video below except towards end of the clip) but its a bit like a Honda Goldwing or a bug with a slightly quieter Zoom Tube (if you know what one of those sounds like). Seems much more responsive (certainly no performance loss as its a good flow through this box) - particularly in 3rd.
Total cost, a mere £80 (£60 for header, £20 s/h ZX65 can). There are various aftermarket cans fitted to the 98 ZX6R including carbon fibre etc but all overkill for this job. A standard second-hand ZX6R can is fine, cost £25 at most and works well on the T25.
Modifications Needed: Nothing major really. Bit of apron cutting was needed for clearance (anglegrinder) but not much! To be honest, hardest part was taking off the old silencer, requiring (as usual) an angle grinder again, hacksaw and much cursing as all the nuts and threads were completely corroded, and the whole reason why I did the silencer swap in the first place. I was sick of all hassle (and ridiculous cost) associated with replacing stock exhausts. These headers allow far more access to retaining nuts as well. Fit copper nuts if you can but certainly use copper grease on threads, thats just good practice when assembling exhausts.


The header needed a slight modification. The above photo is just for reference and not an actual photo of silencer or header but will hopefully explain what was done and what to do if you hit the same problem.
When I mated header pipes to silencer the 3-bolt holes were not far enough apart on header to match Kawasaki 3-bolt (fraction difference) so 80/90 member Chickenkoop came up with the really neat idea of hacksawing into each bolt hole in the flange, then levering each with a screwdriver to open them up, welding across the gap - avoiding the need for any adaptor. You may just find that enlarging the bolt holes works.
For a silencer gasket I used sheet ally using a cardboard template as a guide. There may well be a Kawasaki one available but it was quicker and cheaper at the time to just cut one out. Apron fouled the pipes and silencer as I've mentioned, so I removed sufficient metal from the apron with the grinder for clearance. Hardly noticeable - even less so if you painted this part of the apron black.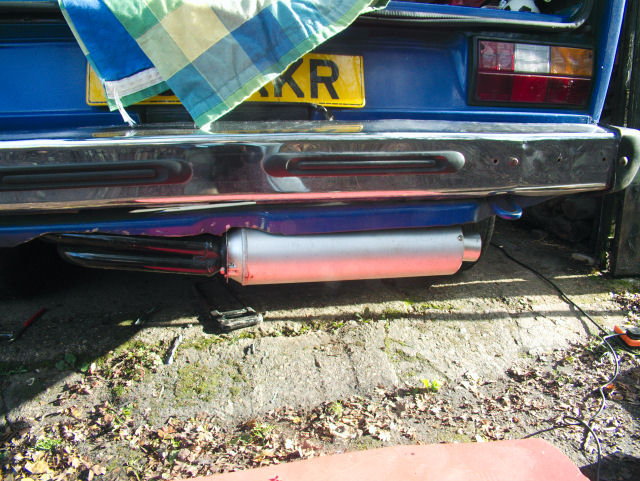 Presumably the rest of the exhaust system could be made up, piece by piece in stainless if you wanted to keep the early exhaust set up but this is a very cost-effective (if not novel) alternative to the stock steel silencer if you want to try it. Either way, cheap and no more rusty silencer or tail pipes dropping off! It sits more or less flush wih rear apron.
Video: http://www.youtube.com/watch?v=b8bvi6VuJS0 - the smoke is NOT my engine by the way. It was on choke and still burning paint from inside the header pipe!
Update:
Bit of an update after six weeks running with this exhaust. Most definately a performance increase. It seems to have removed what were noticeable flat spots on acceleration and third is now like warp drive on the USS Enterprise. If I had any gripe its that the note is possibly too low (sounds very like a gold wing or large cruising bike around 35mph), but does turn heads without sounding like a hatchback poser. I would recommend this mod for anyone after something a little different or on a limited budget and want a different exhaust box that will last for many years compared to the short-lived EMPI silencer box or even the stock one. No reason why this couldn't work for a later exhaust system but you'd need to figure out the connections.
DIY Custom Exhaust - Late Layout
Well, its been on over two years now and I keep bumping into other T25 owners with the early layout that have copied this idea using the same, Honda or Suzi boxes so it seems to work well (to date anyway). Its maybe not as shiny as it was, but still doing its job. The later petrol exhaust layout can also utilise a bike silencer if you make up an adapter as below (thanks NicBeee):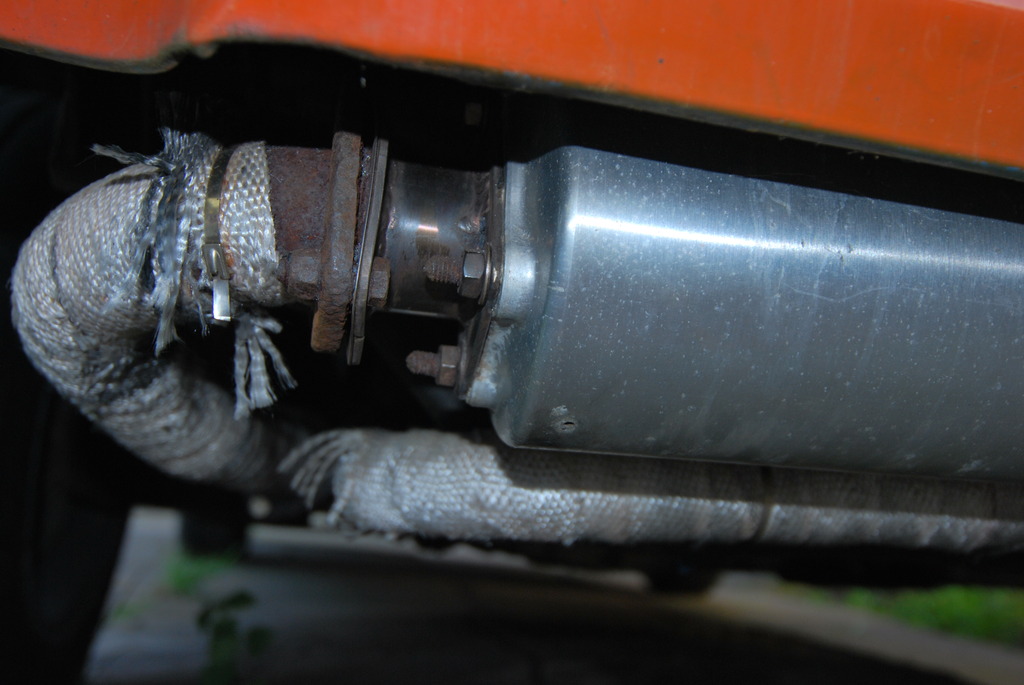 The converter could be made fairly easily and even remade should you want to try a different can later on. The adapter and can still works out cheaper than a stock VW silencer. Stick to big bikes for the throughput needed.