Bodywork and Glass Roller painting
From VW T25(T3)-Tech
Jump to navigation
Jump to search
Introduction
Ralph (Covkid) began this club80-90 Tech Topic 5 years ago and it soon set records for posts and pages, has proved incredibly popular and is still going strong - 134 pages and over 2,000 posts later! The entire project can now be found in the downloads section (members) or you can order Covkid's complete DVD (not expensive) FROM HERE.
Most seem to find the DVD much easier to follow and it is divided into all the relevant chapters including materials needed, preparation, masking, mixing, painting and finishing. Currently its just £8 plus relevant shipping/postage. The DVD is in a plain sleeve to keep costs down - [sample from DVD][1]
This 80-90 topic thread is frequently updated and the additional photos are of other 80-90 members who read my original article and gave it a go. Theres also a couple of videos at the bottom of this WIKI page to inspire you.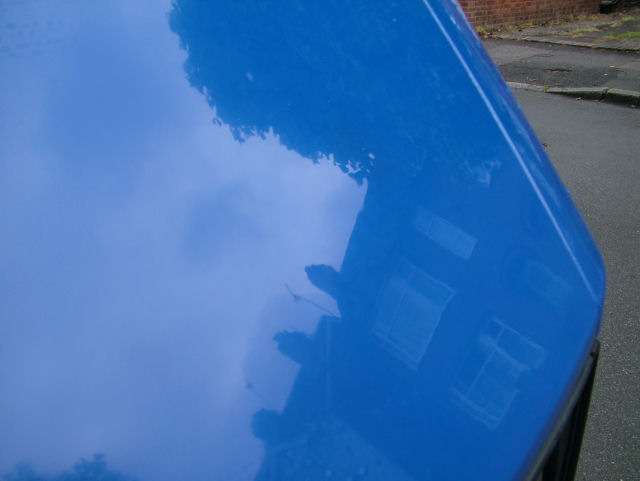 Brief Description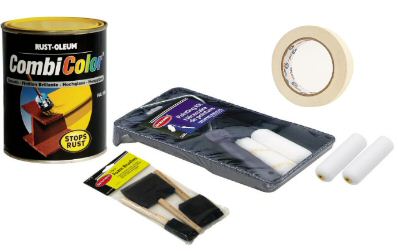 The paint you need is Rust-oleum Combicolor. It's an UV resistent, rust-inhibiting paint that will flex without cracking and you can actually apply it with a roller to steel and/or glass fibre - no primer needed.
More on Rustoleum Combi Color: http://www.rustoleumdirect.co.uk/sheets/rustoleum/7300.pdf
So Why Combi Color And Why Not Spray It?
If you're able to spray then fine, but spraying puts just as much paint in the air and few have the space, time or in some cases, experience to spray and commercial spray jobs are expensive. This project is an alternative and environmentally friendly approach, and doesn't require practiced spraying skills and a complete strip down of your VW or weeks off the road. In particular the whole job can be done on a very tight budget - as little as £50.
The paint itself was made for the job as it doesn't require primer (paint n' go), covers a lot for a small quantity of paint, can be done within the limitations of your own time/budget, withstands the flex that you get on large van panels, and inhibits rust. Its also cheap - about £50 to do your whole bus and you can repair scratches easily with a subsequent coat with the roller. You can also achieve a mirror finish if you want to put in the time.
For those ONLY interested in spraying Rustoleum Combicolor, try this thread: http://forum.club8090.co.uk/viewtopic.php?f=2&t=66623
Member Gary F's stunning rollered wagon. He used RAL 7035 Light Grey for the body, RAL 9005 Jet Black for roof and bumpers, and RAL 3002 Carmine Red (rattle can) for the wheels.

What Do I need?
You want 2 x 2.5ltr tins of combicolor ideally although one tin will just do it I found. You use ordinary white spirits to thin - often referred to as 'mineral spirits in the U.S. Many of the materials except the paint can be obtained in pound shops although I recommend B&Q masking tape - its better quality, and a special gloss roller.
Read this WIKI several times as well as the related threads so you have a good idea of whats involved, additional tips, and in particular, how to prep. If you do a bad job of repair work and sanding down, it will look a hundred times worse when you put the paint on, so take your time, absorb it all and then find a suitable day to start! As with spraying, rollering requires the SAME attention to detail in preparing and smoothing surfaces. If you simply fill over existing rust it will soon be back so deal with it properly. Likewise, any dents will just look more prominent with a shiny coat.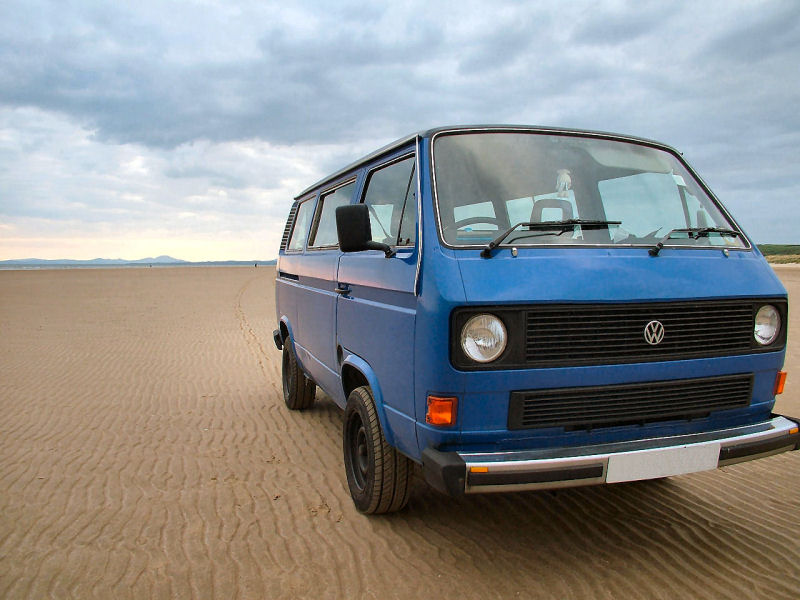 My Own (and the first) Rustoleum rollered T25 in RAL 5002

Paint With A roller? - Are You Insane?
OK, I know what you're thinking - Artex. In fact when I first penned this method on 80/90 I was riduculed for even suggesting it, but since then, many have followed my lead (see photos) and transformed their own vans. Firstly, you don't use 'bath sponge' type rollers - get that one out of your head. Only use high-density foam rollers designed for gloss paint and this will allow you to paint relatively smoothly. The properties of the paint allow it to subsequently level out - providing you've thinned it correctly.
How Is It Done?
The process is, three to four layers paint applied by roller (flatted back between coats) then a final flat and polish or final flat and thin gloss coat. Note that I said flatting back. If you don't do this, you will NEVER get a smooth and glossy finish.
The Paint & Stockists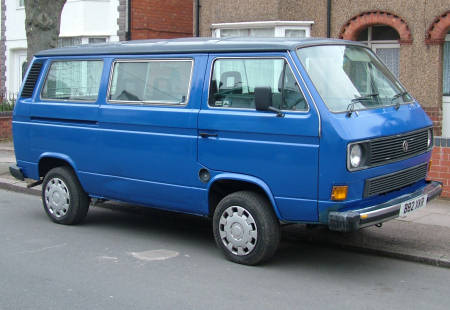 Rustoleum Combicolor, the enamel that can be applied with a roller is available from http://www.lawson-his.co.uk as well as http://www.paintshop.ie
Rustoleum ( http://www.rustoleum.co.uk )have kindly offered 80/90 a 10% discount on combicolor if members ring their sales team direct on 0161 763 7007. They are unable to offer the discount via direct orders on their web site so do call them.
Kent & Blaxill (well known in East Anglia) also carry combicolor and can order colours in.
Combicolor is available in the full range of RAL, BS4800, & BS381C colours along with many OEM colours.
Please see charts at bottom of page.
This tint range is available as follows:
1 Lt & 2.5Lt tins.
Clearly prices change (hence no accurate quotes here) but they are around the £30 mark for a 2.5ltr tin. You will need to take into account VAT and postage etc. Please contact stockists above for accurate price and the 80/90 discount. Practically speaking, you only need one 2.5 Lt tin to do a whole T25 although its best to play safe here and considering the price, I recommend you buy two tins just to make sure and for future repairs or touching up.
I appreciate a few purists may insist on an exact match. VW don't offer any info at all on RAL equivalents (trust me - don't bother to ask) but any good spray shop should be able to compare your paint to a paint chart and give you the RAL number. I'm told http://www.avenue-group.co.uk/ will mix any colour although the suppliers mentioned earlier should be able to help. For most though, a fresh new coat of paint and a fresh colour is often more preferable and can cheer up an otherwise dull colour. Its generally better to paint green over a green or red over a red rather than give yourself a nightmare such as white on red which might 'bleed' through. That said, it is dense paint so anything is possible if you're determined I suppose:)
This paint has been formulated to work well via roller since it doesn't dry instantly like most other types of paint. Its this slight 'flow' that allows it to flatten out to a fairly smooth finish making subsequent flatting down a lot easier. The trick is not to overwork areas with the roller other than to catch runs and keep each layer thin.
Having worked on V-dubs since the late 70s and painted more bugs than I can remember, the vans tend to take far more abuse and coupled with the damned size of the things, spraying is a nightmare on a DIY basis. Theres also the issue of cost. Not everyone has a few grand to throw into a paint job. Besides, it isn't long before some inconsiderate car owner who can't even see over their steering wheel in an Asda car park will run a nice crease down the side of your once pristine panels. Thats just the way it is. However, with this paint, any slight damage later can be easily rectified by a quick roll over and flat-out to put right scratches etc. I'm told it doesn't fade. Its great for rust protection, and its a very hard paint finish once its fully cured.
Other ideas that occur to me are camouflage paint jobs - armed with various greens in the combicolor range I see no reason why you can't use more than one colour and be fairly creative with it. Stencils should work ok too.
Rust & Body Preparation:
Flatting Down
To get your vehicle ready, do all the usual body filling work for dents and creases and sand to provide a key for the paint. Any glossy bits left won't give the new paint anything to bite on so take your time on this. A new paint job is 99% prep and 1% paint so don't rush this part. Pay the same attention that you would if you sprayed the vehicle. As with any paint finish, its as good as the prep.
Rust
For rust use 'Vactan'. I've tried other brands (all of them I think over 20 years) but Vactan is the only treatment that seems to stop rust dead (or close to). Lots of other 80/90 members will back me on this one.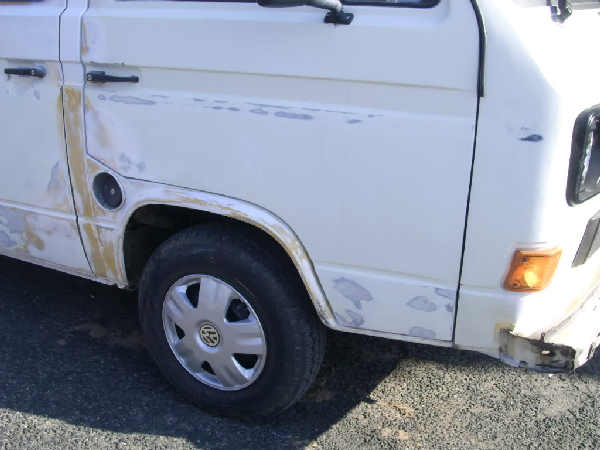 A word here about SEAMS. Wedgies suffer badly with rusty seams as we all know. You can buy a spot 'recycling' sand blaster on ebay for around £20. Well worth doing in my view. A trace of rust left will eventually resurface so if you want to do this job well, get all the rust out of the seams, treat with vactan or some kind of etch-primer, seal and paint. What you can't do is whack a bit of vactan on the surface of a rusty seam and assume your troubles are over. In an ideal world you should cut out and replace with new or get down to bare metal but you MUST do BOTH sides of seams or air will work its magic on the steel and the rust will be back in no time. Remove Dust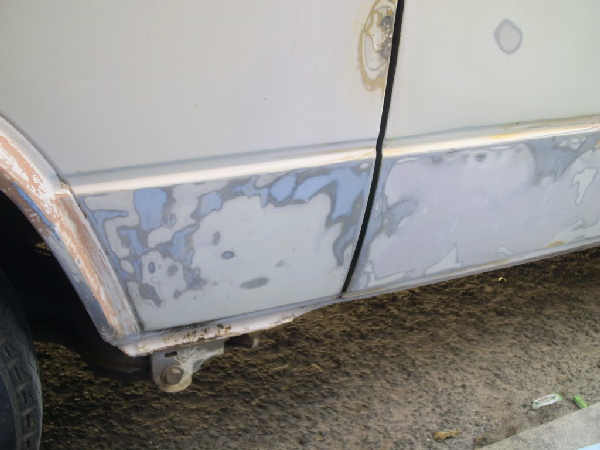 Problems - old window rubbers
If your window rubbers are well past their sell-by date and are starting to break up (ie leaving black streaks down the vehicle), then DO get them replaced at the same time. You'll ruin your new paint if you don't. You can stave off the rot by smearing a very thin coat of clear silicon sealant along the surface of cracking rubbers (keep it well away from paint surfaces) but its temporary at best. This is particularly true if your vehicle is white. The stains left by decaying window rubbers will NOT come off and you'll be wasting your time repainting.
Materials
Roller. B&Q do the small 4" high-density foam rollers. These are what you need to apply the paint. Do NOT use cheap roller heads or they will not give a good finish and disintegrate in minutes - all over your beloved bus.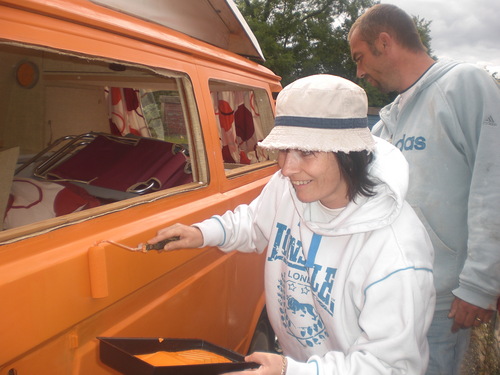 No this isn't Chrissie Hynde painting her van (Brasso in pocket). Its Woodola treating hers to a generous coat of RAL 2000. Note: White attire may not be a good idea when you're painting but a patient friend/partner/relative to spot flaws you've missed, is essential.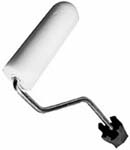 Shop around basically. I bought eight rollers and trays for eight quid and just swapped the roller heads for the B&Q ones! Last thing I want to be doing is washing a roller tray afterwards so for the sake of eight or ten quid, just buy enough rollers and trays for the job ok? I found that a roller should give you 30 mins before it starts to break up.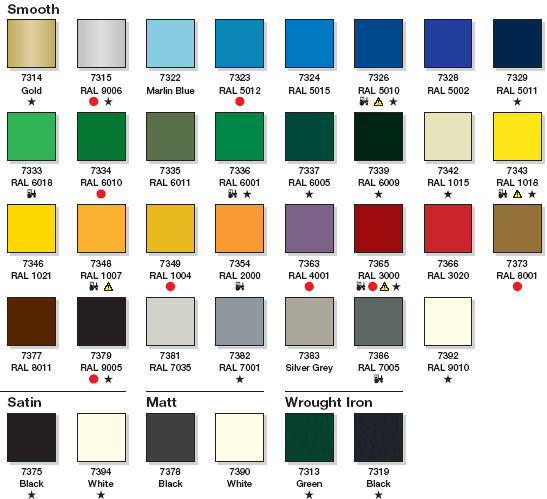 Heres a general RAL chart purely for reference ONLY. Some of these MAY need to be mixed which can be expensive. This is NOT a Rustoleum chart but may help provide a guide for near matches etc. PLEASE remember, your monitor and/or printer will not be accurate enough to establish whether a colour is correct or not and this chart does NOT suggest Rustoleum has it in a tin on the shelf, waiting for you. This chart may help you find a RAL colour close enough that is already in the range - do your homework on this and don't blame me!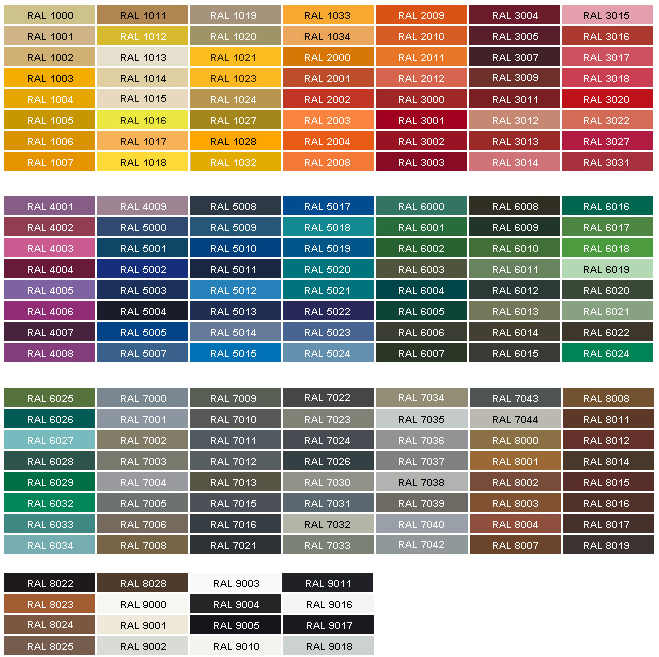 See the links to the full colour chart under other contributions.
Combicolor is available from Lawsons, Paintshop.ie and tooled-up. If you PM me, I can give you a password for a discount at Paintshop.ie (very helpful company in Ireland).
Lawsons kindly mailed me with the following info:
---
Combicolor is available in the full range of RAL, BS4800, & BS381C colours along with many OEM colours.
You can also have it mixed at some places but the price will go through the roof then. One 80/90 member had 5 litres mixed and it cost £103 so bear that in mind.
Application & Weather:
Firstly lets consider conditions. Realistically, most people will be doing this outside - unless you have a really big heated garage. Thats fine (honestly) but timing is crucial. During certain times of the year here in the UK, bugs are everywhere but as a rule you'll see few before 10am and thats possibly the best time to actually lay paint on. Heat is another factor. Dry but overcast is ideal and Spring/Summer is a better bet but some 80/90 members tell me they did theirs in November and the lower temperature helped the finish. I prefer warmer months rather than having to go togged up in long-johns but apparently you can paint in colder months too. In Spring there are less creepy crawlies and leaves blowing around than in July or August. Hot sunny days are great for hardening the paint off afterwards but make sure you add enough thinners to start with. A perfect time would be May-June (May for all the prep, June for the painting) although April too can be a good month if the weather is on your side.
Application is covered in detail in the PDF document in the downloads section, plus there is the DVD which shows you the entire project.

Pic: Three coats of RAL 2000 on Woodola's bus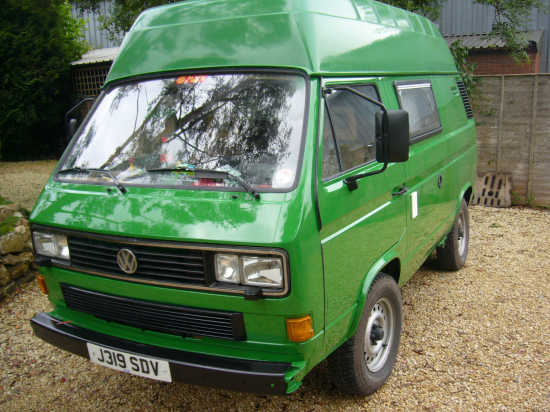 Pic: Syncrosimon's Rustoleum painted high-top - RAL 6001
I STRONGLY recommend you have a mate, son, wife around to point out bits you've missed or to spot any runs in time - it really helps. Theres a certain knack to the way you lay this paint down and having a 'friend' around really pays.
You assistant can also be decanting paint into the roller tray for you and after 30 minutes, saturating a new roller before the one you're using gives up. I found that the foam rollers tend to rip or simply wear out if used for longer than half an hour, so if you've got one ready to take over, it saves much time. Your assistants role is just as important - give them suitable praise.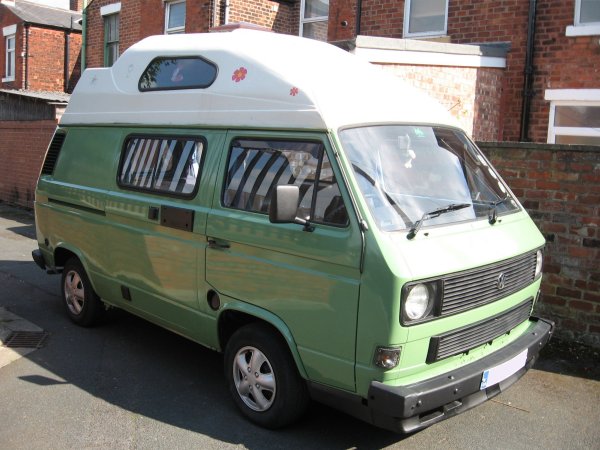 Pic: Cruz's rollered camper

I cannot recommend enough the word 'practice' BEFORE you touch your beloved T25. Refer to the full 'how to' PDF document in the downloads section, or order the DVD (see above). Then find a steel panel, old washing machine, anything smooth to practice on.
Ok here goes (in kinda reverse order):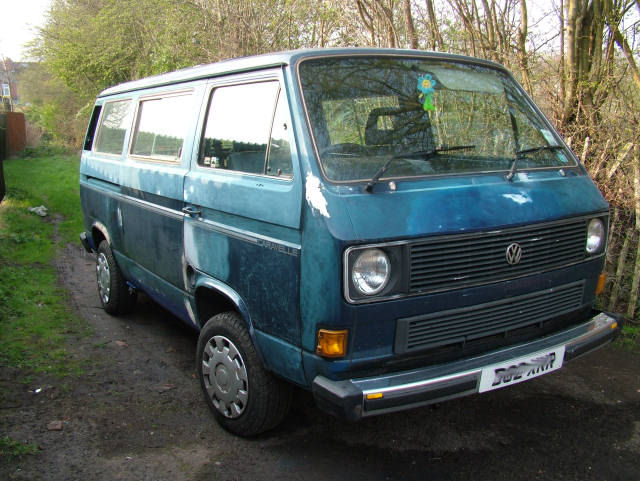 Typical tatty 22 year old caravelle with dents/rust sorted and body smoothed ready for painting. For reference, the original two-tone blue Caravelle colours are LA58 and LK5E - Only saying this because someone asked!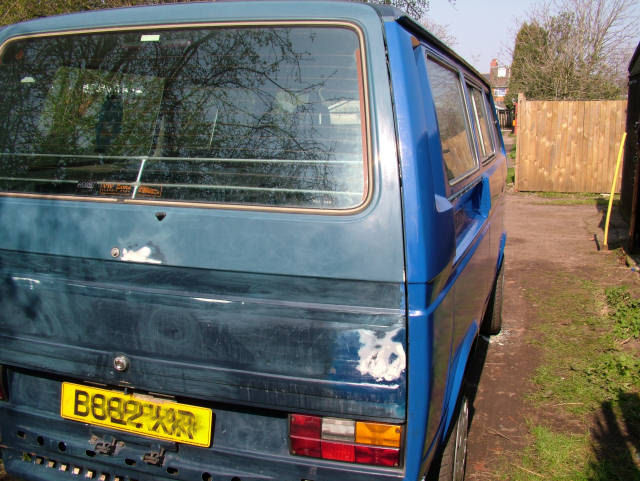 One side gets one coat of Rustoleum RAL 5002 - not bad for first coat!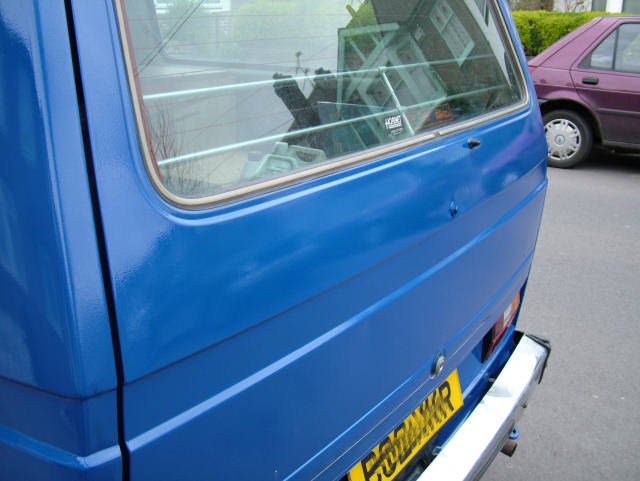 These two pics give you some idea of the finish without flatting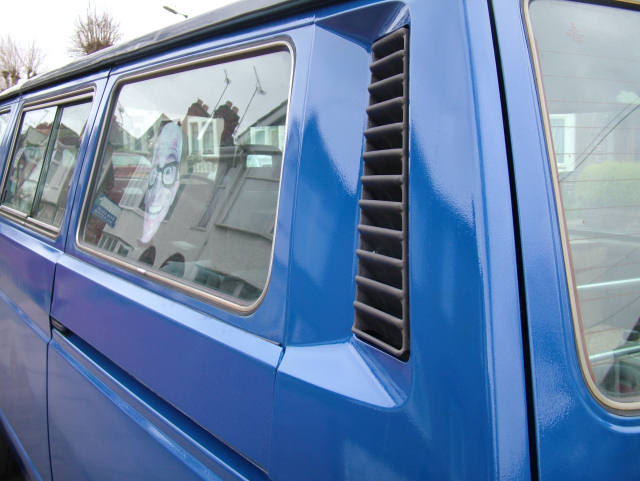 The Finish
The finish is down to the time you are prepared to put in flatting down and polishing out. On its own it will come out mildly orange peely but as a few have said, even without flatting back its still very acceptable.
What you're trying to do is lay on enough paint so that when you flat back you're not going straight through to the old paint beneath. I've been able to flat back to a smooth dead flat finish between coats and clearly if you polish out at that stage you'll match a spray finish. However, even the raw paint finish on its own makes the paint quite acceptable until its hard enough for you to wet and dry it flat so at least you can drive around in it. For some, the unflatted finish will be acceptable.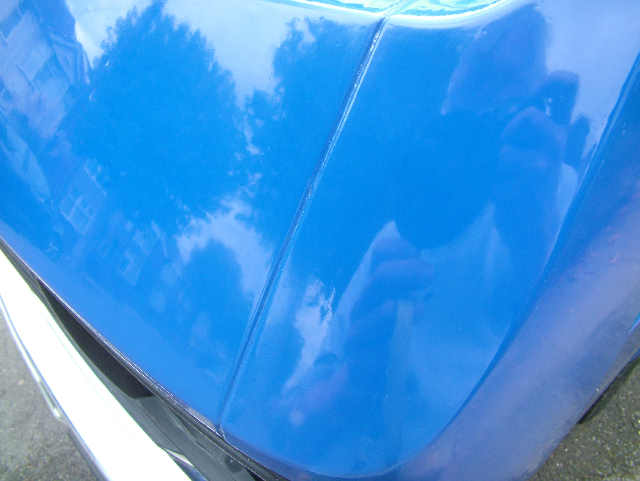 The finish you see above is four coats of paint followed by flatting back with pound shop 600 grade wet and dry and believe it or not, pound shop metal cleaner (not much difference between Brasso and T-cut to be honest) then buff to a deep shine with Turtle Wax colour magic. The whole point of this project was to keep costs down remember. I also got some good results during the cutting stage, using ordinary household 'CIF' as a kind of course cutting compound but I can't guarantee you won't come across a much courser grain in that stuff but definately worth a try as it saved me a LOT of time. There are many commercial types available but I found that working through grades from 400 to 800 wet and dry, a go with the CIF and a finer cutting agent (in my case liquid brasso) and a polish with the Turtle wax, was spot on. Can't vouch for any chemical effects but it did seem to work!
In fact it was so shiney, you can see me taking the photo clear as day.
Note: 'Cutting' is the process of taking off layers of paint with a fine liquid abrasive. There are many commercial types available but you may like to try those I've suggested above, particularly if you're on a tight budget. ENSURE you have plenty of paint on before using heavy cutting compounds.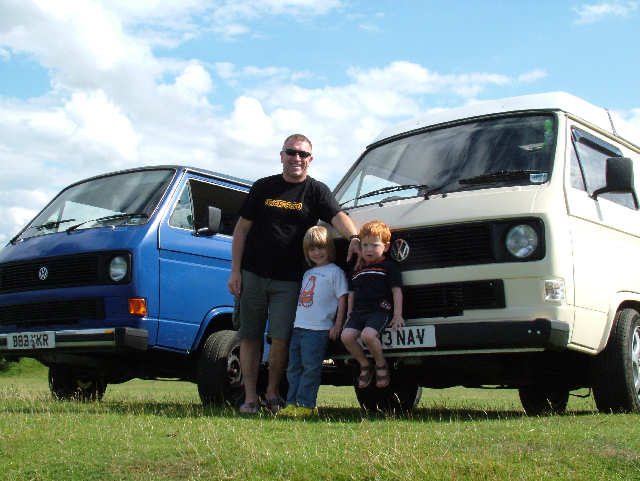 Chickenkoop standing in front of his and Covkid's rollered campers at the first 'Dads, Lads, and Vans' event - 2009

Arguably you could say "why not spray it?", but theres very little mess this way, it requires little in terms of equipment and you still end up flatting back however you do it. The idea of this article is to show you how you can repaint very cheaply and get a pretty good finish too.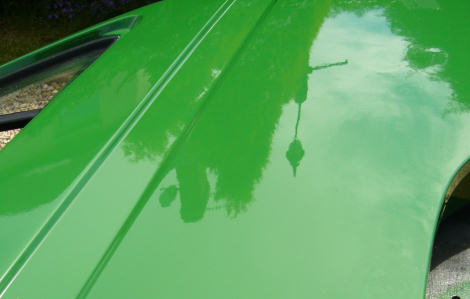 Example of Rustoleum applied using RAL 6001 spray cans by syncrosimon. He did say it would be expensive this way though!

A neighbour was out there yesterday watching me rollering and commented that there was virtually no smell with this paint - that for me is a real plus. You can get out there and 'do a bit' whilst conditions are right and not annoy your neighbours.
Just remember to let the paint really harden up before flatting and ALWAYS flat with plenty of soapy water or you'll burn the paint.
About spraying/painting in general & a few ideas
There are environmental factors as well as practical ones to painting vehicles. We are now faced with (as began to happen in Germany ten years ago), vehicles dumped on the side of the road because it costs money to scrap a vehicle with removal of brake fluids, oil etc becoming essential in the process of disposing of vehicles. Trabans in trees - been like that in Germany for a LONG while. I'm saying all this because I was recently lectured by someone who worked for my local council after I began rubbing some filler down outside my house. I soon ceased doing so although its arguable what IS or ISN'T repairs.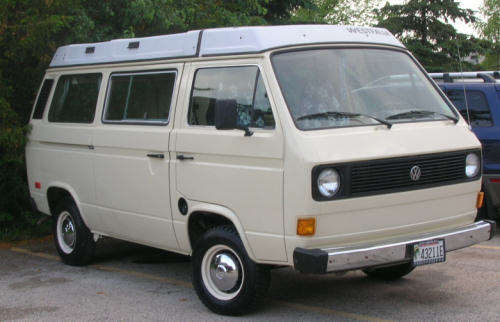 Another 80/90 member (guavajelly) gets out the roller - this time in beige!

I have done a great deal of spraying as well as airbrushing in my time but you really MUST have proper breathing equipment if you value your health (a dust mask is NOT sufficient) and with so much regulation being enforced on us by the EU, you're better off putting your vehicle in a proper spray shop with a pro or considering other ways to paint your vehicle. I'm trying not to sound negative (we all want to save money) but there are good reasons why spraying vehicles at home is discouraged. If you read the safety regulations that vehicle finishers have to adhere to, its staggering just what is required to meet those regulations.
Rustoleum IS available in spray cans (standard colours only) but it would be an expensive route requiring between 15-30 cans on a T25. Some have suggested rollering first then spray cans to finish, but again its an expensive way to get the paint on. You lose a lot in the air and the £50 budget is gone then.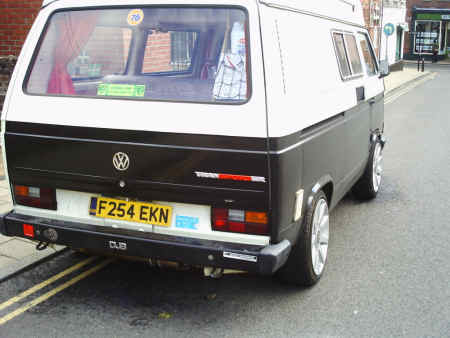 Pepperami's two-tone look in Rustoleum

From an environmental point of view, Rustoleum, rollered on, has a neglible effect. The smell is minimal and providing you're not sloppy with your roller, you shouldn't spill any or bother anyone. Cardboard laid on the ground will minimise light spills and drips. None of my neighbours even noticed I was repainting my bus which is wholly different from someone who decides to spray their car in their garage. Spraying stinks - the whole street can smell it. It gets carried down-wind and isn't good for you, your neighbours, small mammals or anything else. You'll also have to mask EVERYTHING and take off so much stuff including doors.
This paint isn't even as strong as the smell of standard gloss paint.
Lawsons, the Southampton supplier of Rust-oleum are very helpful (it's made in Holland by the way). However, the link above shows you many people doing Beetles, Type 2's etc. I think I'm getting better results than some of those shown actually but again, its all down to the prepping before and after. This is the finish BEFORE flatting back and polishing and its only ONE coat too in the photo: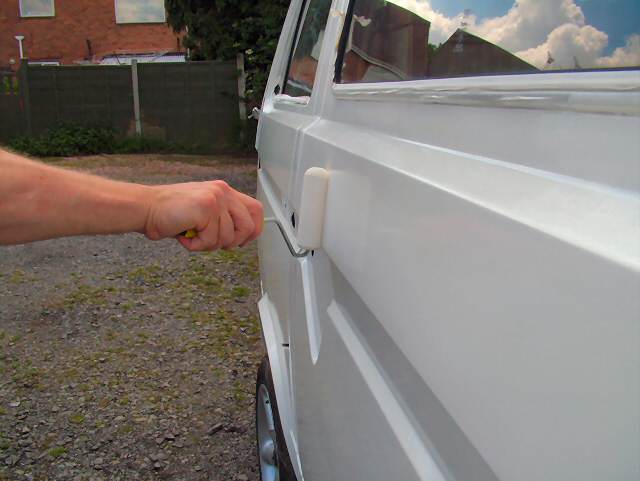 (ChickenKoop rollering his camper. Theres a video of this further down this page)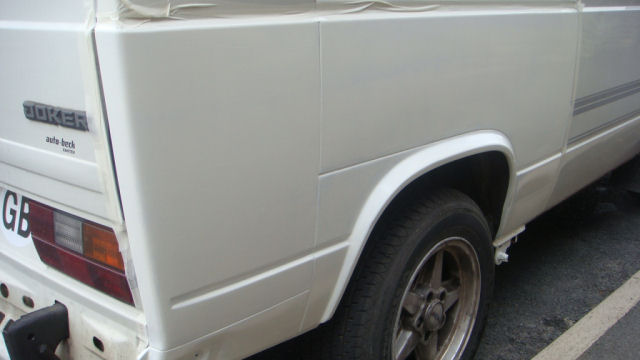 (Llamapup's first attempt at rollering. He said it was so easy (he only wanted to touch up some rusty areas) - he decided to go for a colour change....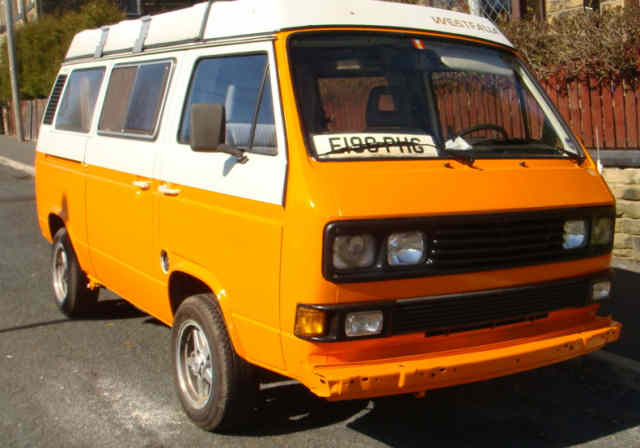 Between stages its slightly orange peely but flats back lovely (also see the dry brush technique in the video section). Don't have the paint too thick and its OK, even as it is.
As I say, after a couple of hours drying time I can drive away but it won't harden off fully for at least 48 hours. There's a spec sheet on drying/re-application but so much depends on weather. Ideal day is slightly cloudy and few bugs - mornings are good.
This Wiki should get you started. I do add things to it from time to time, as well as new pics of rollered vans, but keep an eye on the 'Paint Your Wagon - With A Roller' thread on 80/90 as you will no doubt find additional tips from others that have followed my lead on this Club80-90 forum thread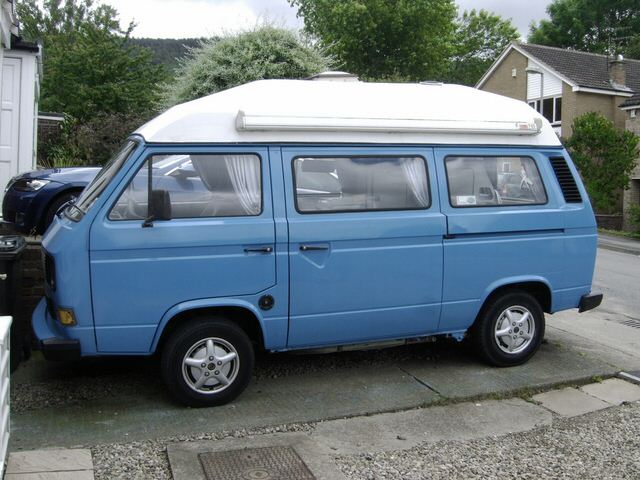 (Glenn77's camper repainted using the roller technique I've described here)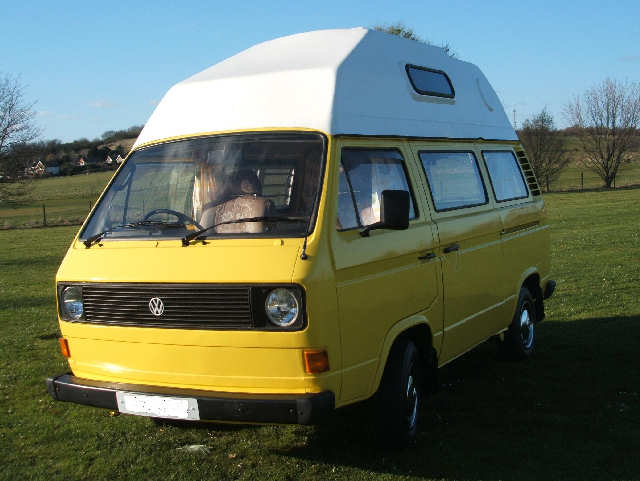 (Lovely yellow rollered camper belonging to Tuggs!)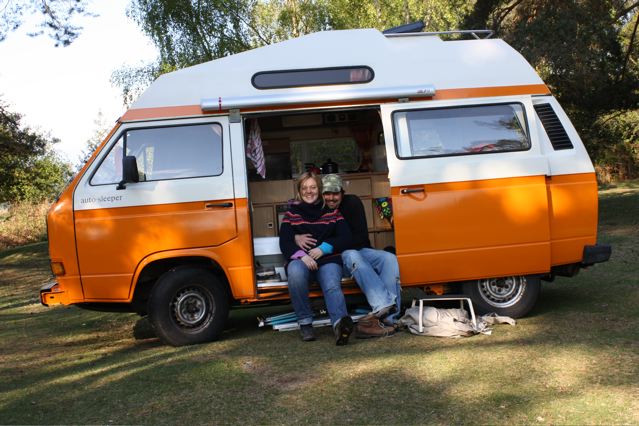 (Alex's (T25Convert) camper)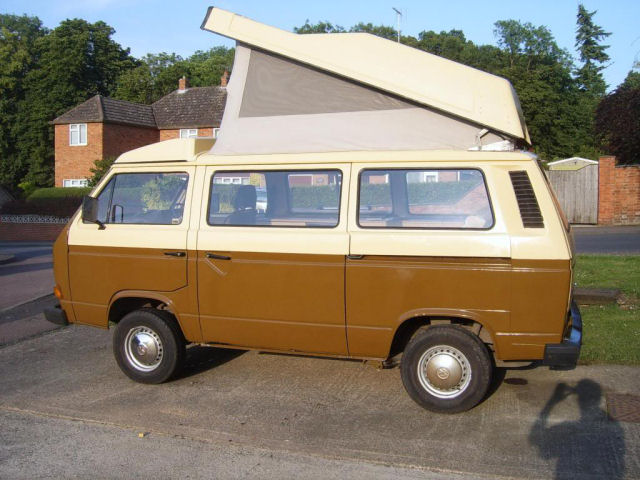 (Rainman's rollered Autohomes Kamper)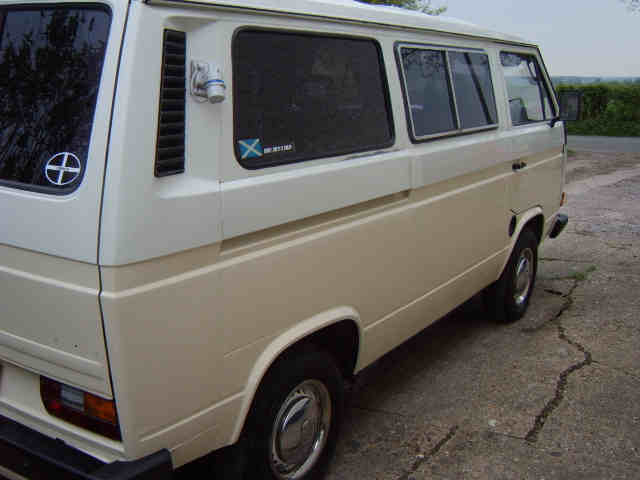 (80/90 member 'Onc Onc' chose RAL 1015 to paint lower half)
1) I took a short, light-hearted video of ChickenKoop painting his own camper at You Tube - in this instance painted outside. 2) Heres a terrific technique you might like to try. The dry brush is effective if you work fast but essentially the technique shown here gets rid of any roller marks. Narrowboat roller painting
It's fun when people say "Respray?" and you say "No - Roller!" 


Good luck!
CovKid
Many thanks to Ralph Morris (CovKid) for writing this up so thoroughly (and oodles of encouragament to give it a go) - Don't forget the new DVD which covers everything in this article and much more - available from: http://www.9dartshop.com/shopexd.asp?id=3604&bc=%20Rustoleum%20Paint%20Job%20DVD
Other contributions
west E:
I've ordered my paint from Avenue Group [2] who will do a colour match if you give them the original colour code from VW. Mine was l0h6a. It will take them a couple of weeks. Got mine delivered the other week and the match is excellent, it cost a fair bit, 5 ltrs £103, but if the finish is as good as I have seen in the vizi forum I'll be well pleased and its cheaper than 1 respray!
VW Lewis: Full Rustoleum Chart
Below is the full Rustoleum RAL Colour Chart - scanned in by VW Lewis as a guide, but they are ONLY a guide in terms of RAL colours they stock, and should not be seen as an accurate reference. Bear in mind that photographs and monitor setup can affect how they look greatly. DO consult a proper RAL chart if you want to be sure or get a close match to what you have. For this reason I've now added some general RAL charts which MAY be more accurate but may not be in the Rustolem range - get the picture? RAL colours are a standardised form of paint codes and variants are made by mixing them - if you want exact matches. Personally I was happy with a straight RAL colour from the Rustoleum range but each to his/her own.
VW Lewis says: "You can get a Rustoleum chart directly by e-mailing sales@combicolor.co.uk - just tell them you are want to re-paint your VW and give them your mailing address. According to member 'Redstar', it is the gloss square that is the colour for the code, and the one behind it is a complementary colour. If you go to a good paint dealer they will mix up any colour out of any RAL shades in the range for you, but allow for the extra cost of mixing. It can be four times as much."
I ordered my paint from Lawsons (Southampton) who were very helpful if you order from them.
Rustoleum charts (scanned):
Rustoleum Chart1 Rustoleum Chart2 Rustoleum Chart3 Rustoleum Chart4
Other charts for reference that may be more accurate:
ALL RAL Colours: [3] RAL1 (alt): [4] RAL2 (alt): [5]
Other paint rollering web links