Always seems to be lots of questions coming up about water leaks from the wasserboxer (1.9 & 2.1 watercooled) engine so, as I was rebuilding the top end on an engine for mine I thought I would try and document it as it might help others and its a good excuse for some engine "porn"

Not saying what is included here is exhaustive or that it is 100% correct, some of the stuff here is included from experience and a lot from reading about others experiences on great forums like ours! Given I tend to be a bit "fussy" with my rebuilds it may go further than others would, but hey - we are all individuals otherwise we wouldn't spend so long keeping these things on the road

This follows on from my engine strip down thread here
http://forum.club8090.co.uk/viewtopic.p ... 7&start=15
and there are a few other threads around on the same subject e.g. here
http://forum.club8090.co.uk/viewtopic.php?f=37&t=52374
Please feel free to add to this thread or ask questions/make suggestions - I am always learning new stuff so no good ideas ignored.

WBX Water Leaks
If your reading this you are probably interested like me in the WBX engine (sad bunny) or you have a van with a WBX and are having problems with overheating/water leaks. There are loads of reasons why this might happen, I don't claim to know them all but most are documented on here somewhere, but when you have ruled out leaky pipes, stuck thermostats, blocked rad etc you usually end up by narrowing to down to a leak coming from the cylinder head water (jacket) seal, a large u-channel seal that sits ontop of the block/water jacket and seals against the surface of the cylinder head. Typically you will find a water trail/signs of coolant from this area often at the back of the engine.
These engines don't have a cylinder head gasket as such (all though your AA man or un-knowledgable local mechanic will often diagnose cylinder head gasket failure), as rather than boring a big hole in a block of metal to make the cylinder the piston runs in (like most engines) - these beauties have a liner that sits inside the case surrounded by water and sealed top and bottom. Looks something like this: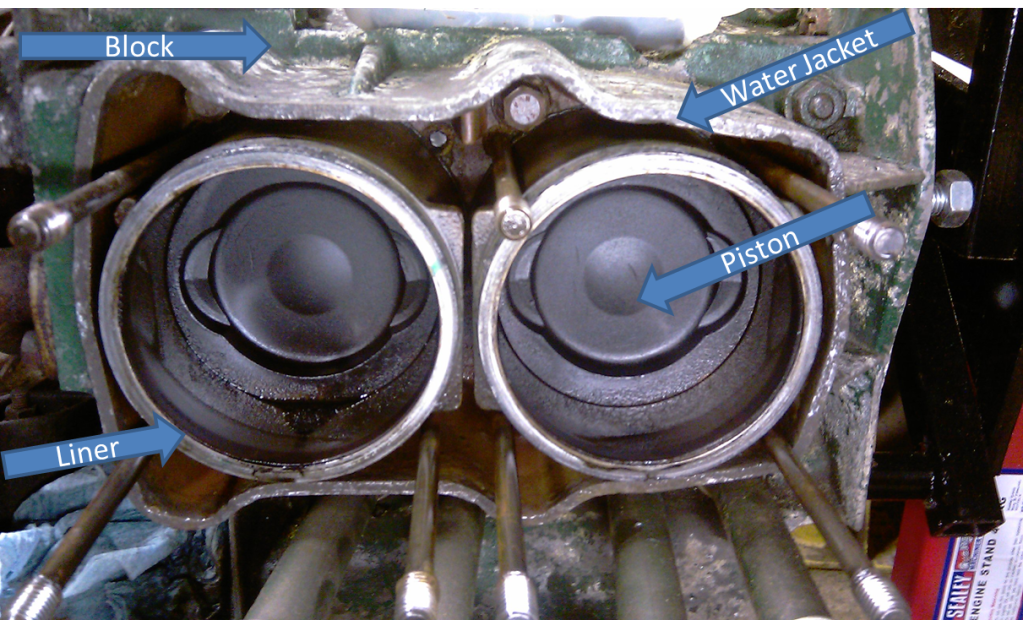 "Only" problem with this is there a lot more places to seal, and hence seals to fail! The approach shown in this thread will actually work for sorting problems with any of the 4 primary seals in the cylinder head area (liner bottom, liner top, compression and water jacket) but from here in I will just be talking about the water jacket seal.
The seal is rubber and deteriorates over time given it is in a pretty hostile environment and will eventually perish and look like this:
At this point no amount of Radweld, K-seal or any other rad sealant will help (IMHO) as we are not fixing a pin prick hole in a radiator, but a split/tear in a rubber component, so replacement is your only option.
Replacement involves taking the heads off, which has its own challenges, and so you have a number of options at this point including:
1. Replace seals yourself
2. Give it to a garage
3. Buy a recon engine
4. Pray

...and probably a few others as well.
I don't like buying "blind" so tend to do all my work myself where I can (especially on engines) so this is my story.
Hope you enjoy
MM