Recently picked up a late t25 project from the forum (cheers SteveW!).....& it's my first vw! I bought on body condition over mechanicals and it ticked a lot of boxes for me - I've done bodywork stuff in the past (complete 1275gt mini resto) but I didn't fancy a major rot-fest again so I made sure I found a project without any major body issues. Don't get me wrong - there is body stuff to do but nothing horrific (that I can see at least

). Van has sat for 5 years so plenty of mechanical bits to replace and sort out.
The day it arrived: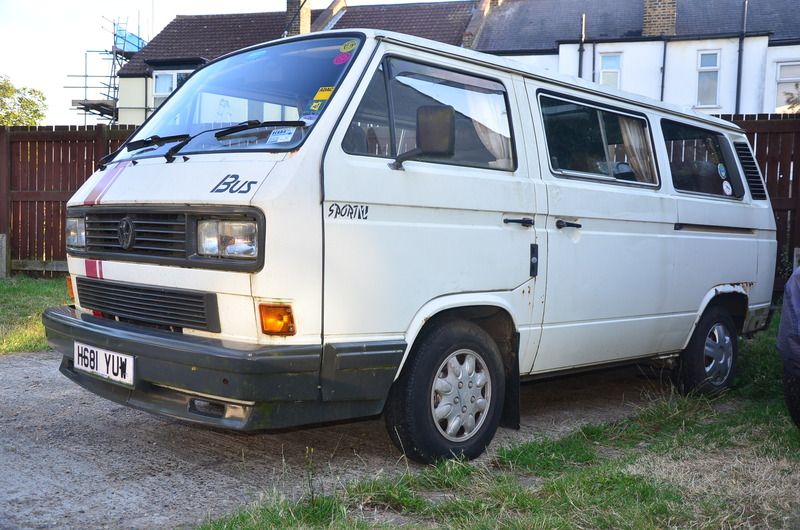 After a month of cleaning/painting and generally tarting about:
It came with quite a few spares including:
1x 2.1MV engine - apparent good engine
1x 1.9DG engine - apparent smoker
1x unknown (no engine number) - apparent smoker
1x 1.9DG engine (fitted in the van) - have had it running (just!) - but very smoky & oil pressure buzzer going off!
Engine-wise, all a bit knackered and unknown. I started stripping the MV to do a head seal refresh with the intention of "chucking it in" and getting it running but managed to shear a chunk of the engine casing by bracing against it to undo the crank pulley bolt. Moment of madness......can't believe I was such an idiot, but it's done now....nothing I can do about it (I'm nearly over it

).
So not knowing the condition of any of the engines I decided to look at the "unknown" engine - heads off & checked the stroke which turned out to be 76mm. High compression pistons so assumed to be a 2.1DJ?
Anyway - I've decided to concentrate on this engine & stripped it down to the following:
Damaging the MV was probably a good thing (in a way) with hindsight - it's forced me into doing a proper rebuild. I want to keep the WBX engine - it's a VW afterall so it'd feel wrong to fit a scooby engine this early, especially as it's my first VW.
First complete engine rebuild for me so plenty of learning to be done. I've done quite a few head rebuilds but nothing deeper so I'm at the bottom of the learning curve on this one. Ultimately I want to make sure I do this correctly as I've bought the van as a project that I want to drive my family around in one day so I want to make it as reliable as I possibly can. Slightly scared about the costs/availability of some parts and what I've read about reliability of some rebuilt engines though......
Putting this up here so I can document progress and ask plenty of daft questions. There seems to be a wealth of information on here and some very clever peeps....hoping to tap into some of that knowledge.
Cheers!